Senate Backs Bill To Prohibit Violence Against Persons In Nigeria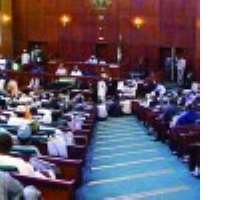 Leader of the Senate, Senator Victor Ndoma-Egba, who sponsored the first bill titled: "A Bill for an Act to Provide for the elimination of violence in Private or Public life, in peace and conflict situations; to prohibit, prevent and punish all forms of violence in the society and to provide maximum protection and effective remedies to all victims of violence  2014″.
He explained that the second one, which was also enlisted in his name, emanated from the House of Representatives.
The other related bill is entitled, "A Bill for an Act to prohibit violence against persons and for other matters therein 2014."
He therefore, moved a motion for the two documents to be harmonised and fused as one bill before debate on it could commence. The motion was unanimously supported.
The two bills were subsequently referred to the committee on judiciary and legal matters for further legislative work and expected back in plenary in one week
Leading the debate, Ndoma-Egba explained that the proposal was informed by the need to intervene in the plights of many Nigerians who suffer violence in the hands of those who trample on their fundamental rights to life and human dignity.
He called on the Senators to pass the Bill into law so that the victims of violence in the country would be salvaged from the various inhuman treatments they were subjected to.
Senator Chris Ngige (APC Anambra Central) in his contribution noted that violence is a huge human rights abuse, lamenting that victims of violence in Nigeria could not get redress from law enforcement agencies and human rights organisations.
He further regretted that Sections 33 and 34 of the 1999 Constitution (as amended), which provide for right to life and dignity for human persons respectively were mere theoretical propositions, saying they were not put into practice in the country.
Closing the debate, Senate President David Mark stated that some customs in the country need to be abolished, citing the case in which some women are made to drink the bathwater of their dead husbands in some parts of the country.
He therefore hoped that with the passage of this bill into law, such obsolete customs will be abolished.
EMMA UCHE, ABUJA