Canada-Based Nigerian Singer, Akin, Sets To Take Centre Stage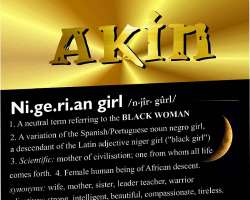 In order to help rebrand the Nigerian music industry, which some believe has been overtaken by wack artistes, who dish out watery lyrics about feminine physical features, multi-award winning Canada-based Nigerian R&B singer, Akin, is set to release a smash hit single that would change the industry.
The single, according to information made available to us, is entitled 'Nigerian Girl' and it is expected to be released on October 24, 2014. The song is co-produced by Ra and Stephen Hunt.
According to Akin, who is also the co-owner of U & I Music with his elder brother, Rasak, the song was done to celebrate the beauty and true values of the Nigerian woman. The label believes that today's artistes sometimes portray the women folk as dirty objects, thereby distorting the true definition and character of the Nigerian woman.
Akin, whose song, 'Harmony topped charts in major Canadian radio stations, said 'Nigerian Girl' is his first single from his African debut album which he is dedicating to black women in Africa especially his homeland Nigeria.
According to the 2009 Toronto Exclusive Magazine Awards winner, his main reason for returning back home is in order to redefine Nigeria to the world and make a positive contribution to the Nigerian music scene.