FG begins rehabilitation of Zik's Mausoleum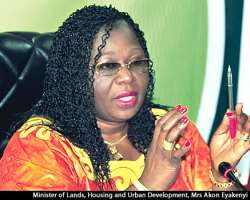 The Federal government has commenced the rehabilitation of the mausoleum and the library complex in honour of the late Dr Nnamdi Azikiwe in Onitsha, Anambra State.
   Minister of Lands, Housing and Urban Development, Mrs. Akon Eyakenyi, who disclosed this while briefing journalists in Abuja said that the project is being executed at the cost N1.4bn.
   She said that government would ensure speedy completion of the project in recognition of the importance of public buildings and monuments as symbols of national pride and invaluable national assets.
   Eyakenyi observed that a total of 43,126 housing units were added to the national stock between 2010- September 2014 through various interventions by the Ministry and the Federal Mortgage Bank of Nigeria (FMBN) and the Federal Housing Authority (FHA).
   According to the minister, about 444 projects were completed in various parts of the country under the Millennium Development Goals (MDGs) while 231 are ongoing.
  She said that 1,230 projects constituency projects were completed in various parts of the country with 361 ongoing.