Annie Idibia; A Good Example For Celebrity Women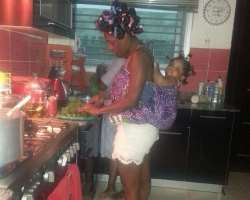 Popular music producer, Solomon Oyeniyi, aka K-Solo, has joined the league of music critics to lash out on the poor state of song lyrics by Nigerian artistes.
According to K-Solo, Nigerians no longer listen to good songs rather they enjoy dancing to the beats of the songs which has made the contemporary Nigerian music to lost a great deal of content.
He noted that what producers fail to understand is that these songs last for just a short period of time and fades out quickly. Urging that Nigerians need good music that can stand the taste of time and can be exported to other countries.
The producer further pointed out that though the country has some good dedicated artistes, but misplacement of priorities by new generation artistes as the major problem affecting the industry. He added that these artistes just want to be seen as 'artistes' without paying attention to content.
K-Solo, recently released a new single titled 'Jafunmi.' It is an upbeat reggae spiritual featuring rapper Ruggedman, which has so far attracted a positive response from music fans.