Keshi dashes hopes for Uche's return to Super Eagles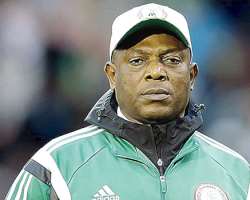 Super Eagles Coach, Stephen Keshi, has vowed that there is no possibility of Villarreal FC forward, Ikechukwu Uche, playing in the Super Eagles under his supervision.
  Keshi Wednesday cautioned journalists not to bring up the matter again, stressing that he was never begged by any coach to play for the national team and therefore will not beg any player to wear the national colours of the Super Eagles.
  The coach was angry when he was asked at Wednesday's media parley to explain why he chose to experiment with young and inexperienced players, while ignoring tested players like Uche and Obafemi Martins.
   He quickly warned that such question about Uche would no longer be entertained, saying: 'This will be the last time I will speak about Ike Uche and I will not speak about him again. 
  'We are not quarrelling. Before the match against Congo, I gave them the list because I never thought I will come back to handle the team. I told them that I would not do the list because I am not your coach. They say no. So I did the list. 
  'Ik Uche's name was in the list. He didn't even know about it. I did not tell him. Uche called me four days later and I was like ah, we spoke and that was it. The next time I told the team secretary to ask the players if they had South African visa and if they don't have, so that they can get the visa. When Uche was asked, he said why are you asking me. What do you need my passport for? I hate to speak without Uche being here. You can call him and put it on speaker if I am telling lies let him say it,' Keshi said.
  Speaking further, the angry Keshi said: 'Please nobody should ask me about Uche again. Uche said he wants somebody to explain to him that they said he was a bad kid, and if not he is not. I said ok, take his name out. I am not going to beg Uche. I'm not going to ask Daniel to beg Uche. We all played for this country for twenty something years and nobody begged us to play. 
  'We were begging Uche to play. So let it be the end today and don't ask me about Uche again. Why not encourage the kids who have come here to play for their country. Why must it be Ike Uche? Is it only him? Obafemi is not saying anything. We have hundreds of other players who are not here,' Keshi fumed.
  Keshi asked for the team to be supported so that the younger ones will develop. 
  'I don't know when we will be appreciated. We win, they say we didn't play well. We lose they say ah, kill them and we draw, they say they are bad players. We really don't know where we stand. When will we be appreciated?. It is a terrible thing. There is no word of encouragement to the players, and all we do is to criticize. These players are not magicians. They have the same blood that run in your veins. All we need do is show some caring,' Keshi added.