There are many fifth columnists in armed forces - CDS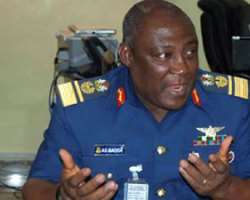 The Chief of Defence Staff, Air Chief Marshal Alex Badeh, said on Wednesday there were 'fifth columnists'' in the armed forces leading to conflicting information emanating from the military.
Badeh made the allegation in Abuja, while reacting to some presentations at the start of a three-day workshop on 'Security/Media Relations in Crisis Management''.
The News Agency of Nigeria (NAN) reports that the retreat was organised by the Office of National Security Adviser in conjunction with Trim Communications Nig. Ltd.
'If your people are misleading you, what do you do? There are too many fifth columnists.
'There was a report which says oh, we have seen some of the Chibok girls, only eight are missing, it was a very senior officer that gave that information from Chibok area.
'We are dealing with that situation. That was when people started saying watch what Maj.-Gen. Olukolade, the Director, of Defence Information says. He was misled by one of us,'' Badeh said.
Badeh urged journalists to be guided by national interest while reporting the ongoing counter-insurgency operations in the North east.
Badeh advised that although they might know many things concerning the operations but they should not report things that would hurt or create panic in the people.
Asked to assess the performance of the media so far, he said, 'I would not say it has been what we are looking for.
'Because without pointing accusing fingers, some newspapers celebrate when anything bad happens to this country.
'They really celebrate it, maybe because of politics. President Jonathan cannot be doing everything.
'When an institution has small problem, you do not go and say the president has failed,'' he said, adding that journalists should endeavour to verify their report before publishing.
'If you know how many condolence messages I have received that my house is burnt, that my whole village has been burnt; but no Boko Haram has gone to my village.
'I do not know whether it is me they want to bring down or the president that they want to bring down, that is the media for you.'' he said.
Also, the National Security Adviser (NSA), retired Col. Sambo Dasuki, urged the media to be diligent in their reportage of the operations.
He said that the country was facing 'significant security challenge''.
Represented by Prof. Soji Adelaja of the NSA Office, he said that terrorism was new to the nation and cautioned against reports and pictures that could affect the image of the country.
The chairman of the occasion, retired Gen. Martin Luther Agwai, said that there was need for the media and security agencies to partner in handling the current situation. NAN