Abia First Lady fixes October 25th for movie premier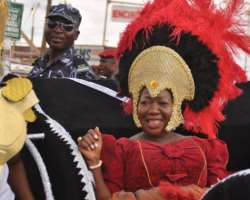 After a successful talent hunt exercise, the First lady of Abia state, Lady Odochi Mercy Orji has finally rolled a date to premier the much anticipated movie ever to be produced in her maiden acting skill hunting for secondary school students in her State.
The movie premier, My Hidden Treasure is billed to hold on October 25th, 2014 at Kapital Apartments in Gamal Abdul Nasser Close, Near World Bank, Asokoro in Abuja.
Interestingly, the talent hunt search which has today empowered the young Abia students, through platform provision for their talents to grow and be nurtured began with its first local government outing at Umuahia North, where four schools in each area were given an opportunity to hone their skills in acting.
The seventeen days tour at the local government areas that make up Abia state, however, ended with a grand finale, which held late last year at Umuahia Township Stadium.
Consequently, the movie production and hunting exercise aimed at harnessing, discovering and empowering of young talented Abia citizens, who are of secondary school age at the rural areas who due to hardship and lack of opportunity do not have the medium of showcasing their talents.
However, the success of the talent hunt exercise could be credited as being one of the pet projects of the Abia First Lady, through her Hannah May Foundation, which over the years had empowered indigent children, women and youths of the State.
The shortlisted students which were: Mercy Dike, Ezeigbo Amarachi, Nwabuko Promise, Ogba Nkechi, Okosi Miriam, Nwaozo Ogechi Grace, Ihedoro Gospel, Nnamdi Chioma Gold, Uzoma Oyeoku Inyima, Awah Uduma Racheal, Nzeadi Peterleen, Chike Emerike, Adindu Beauty Chiamaka, Ikeh Juliet, Ukonu Chisom, Ayo Rebecca, Ekeoma Ezinne, Stand-Hope Emmanuel, Ekeka Cynthia and Emmanuel Saviour; all made a feature in the yet to be premiered movie that was shot in Abia State alongside Olu Jacobs, Charles Awurum, Tom Njemanze, Ed Ifeanyi Nnasor, Ijele Ozioma Christy and few notable faces.