Jonathan in Lagos, meets privately with PDP aspirants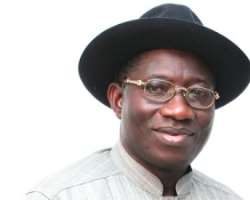 In a bid to wrest Lagos State from the control of the All Progressives Congress, President Goodluck Jonathan, on Sunday, held a close-door meeting with aspirants of the Peoples Democratic Party.
It was learnt that the President charged the leaders and the governorship aspirants of the party to work in unity and present a credible candidate that would be acceptable by the electorate.
Particularly, the President reiterated the need to wrest the state from the 16-year grip of the ruling party, stressing the need for Lagos to come under the umbrella of the PDP.
The meeting, which began by 2pm, dragged into the evening with the President meeting aspirants that included Minister of State for Defence, Musiliu Obanikoro, Jimi Agbaje, Adedeji Doherty, Babatunde Gbadamosi, among others. Party leaders including Chief Bode George, Chief Adeseye Ogunlewe and the state Chairman of the PDP, Captain Tunji Shele (retd.).
Jonathan, who charged the leaders and aspirants to decide on who the candidate of the party would be, stressed that the PDP could not afford to lose in the state.
Agbaje, who has a large following and popular Obanikoro are locked in fierce battle for the ticket of the party even as other aspirants staked their claims to the ticket before the President and party leaders.
While Agbaje, considered by some as a new entrant into the PDP, might need a waiver to contest the party governorship primary, Obanikoro and other major other aspirants do not need it because they have remained in the PDP. Punch