The Day Obiano Delivered Message Of Hope To Ndi Imo As PDP, APC & UPP Members Decamp To APGA In Owerri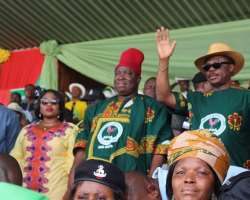 Governor of Anambra State, Chief Willie Obiano has called on Ndi Imo to stand up to the challenge and commence the much needed return to their roots.
Chief Obiano who spoke at the APGA Sensitization Rally held on Friday, October 3, 2014 at the Grasshoppers Stadium, Owerri said the best time to take charge is NOW!
Obiano in a short speech titled Message of Hope, urged the good people of Imo State to defend their Igbo identity by voting APGA in 2015 General Elections.
See all the pictures here https://www.flickr.com/photos/willieisworking/
Willie Is Working (WIW)
Read Willie's Blog @ www.willieisworking.blogspot.com
Like Our FaceBook Page @ www.fb.com/wiwggc
View Our Online Album @ https://www.flickr.com/photos/willieisworking
Follow us on Twitter @WillieIsWorking on www.twitter.com/WillieIsWorking
WIW - A Peek Into the Days of Chief Willie Obiano in the Government House
C/O: The Executive Assistant to the Governor on Media + 234 803 739 1543
2014-10-05 085631
2014-10-05 085655
2014-10-05 085712
2014-10-05 085751
2014-10-05 085807
2014-10-05 085824
2014-10-05 085842