APGA chieftain extols Obiano for keeping campaign promises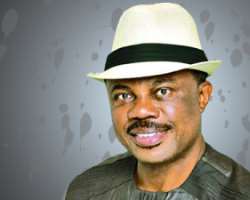 A former Commission­er for Information and Culture in the Peter Obi adminis­tration, Chief Maja Umeh, has extoled the virtues of Anambra State Governor, Chief Wil­lie Obiano, for being a man of his words. Umeh said he was impressed with the way Governor Obiano was being faithful to his campaign promises in just seven months in office.
Umeh, who was speak­ing with journalists in Awka, said that if Obiano continued on this track, he would distinguish himself as an uncommon politician because 'many politicians do not keep their promises to the people.
'It is a thing of joy that the governor has continued religiously with the road and other projects initiated by his predecessor as he promised during the cam­paigns. This must be com­mended because it shows he is not bothered about who takes the credit, but only concerned with im­proving the people's wel­fare.'
'I have no hesitation in congratulating His Excel­lency on his achievements in the area of security, de­congestion of Upper Iweka, and the flyovers under con­struction in Awka, which will give the state capital a facelift', Umeh enthused.
He, however, singled out the Obiano administra­tion's efforts in growing and diversifying the state economy as the more sig­nificant of the government's achievements. Umeh ad­vised Nigerians and the people of Anambra State to key into the emerging investment opportunities in the state as the administra­tion takes steps to attract entrepreneurs and foreign investment through AN­SIPPA.
The former commission­er called on Ndi Anambra to give Governor Obiano all the support he needs having demonstrated very clearly in just about seven months that he has the wherewithal to take Anam­bra State to the next level.