Lionel Messi to face tax evasion trial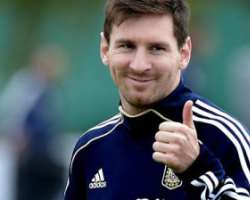 Barcelona and Argentina star Lionel Messi is to face trial for alleged tax evasion, a Spanish judge has ruled.
The judge rejected a prosecution recommendation to drop the charges on the grounds the player's father was responsible for his finances.
Messi and his father Jorge are accused of defrauding the authorities of more than 4m euros (£3.1m; $5m).
The pair, who deny wrongdoing, have five days to appeal against the ruling.
It is alleged that they withheld the money between 2007 and 2009.
The income related to Messi's image rights, including contracts with Banco Sabadell, Danone, Adidas, Pepsi-Cola, Proctor and Gamble, and the Kuwait Food Company.
The footballer and his father are suspected of avoiding paying Spanish tax by using companies in Belize and Uruguay to sell the rights to use Messi's image.
The judge ruled: "In this type of crime, it is not necessary for someone to have complete knowledge of all the accounting and business operations nor the exact quantity, rather it is sufficient to be aware of the designs to commit fraud and consent to them."
In August 2013 Messi and his father made a 5m euro "corrective payment", equal to the alleged unpaid tax plus interest.
Messi has been four times Fifa World Player of the Year and is captain of Argentina.
The court decision comes as Barcelona grapples with a separate prominent legal case.
A Madrid court is hearing a lawsuit that accuses Barcelona of misappropriating funds from the transfer fee to buy Brazil striker Neymar from Santos in 2013.
Club president Sandro Rosell quit in January, but insisted he had "acted correctly" over the transfer. BBC