IS MR. TEMITOPE JOSHUA OF SYNAGOGUE OF SATAN IN NIGERIA A FAKE OR TRUE MAN OF GOD?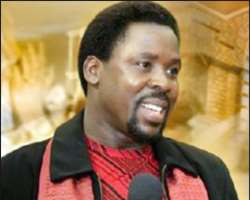 Every Tom, Dick and Harry has become or will soon become a general overseer of a church in Nigeria. As the Nigerian nation slides deeper into poverty and the Hobbesian world, the church and other faith-based organizations have become avenues to pauperize and impoverish the gullible masses. The last time I visited, the outlandish claims of these religious racketeers are as bizarre as some of the out of this world names and titles these charlatans parade. Churches are now little drive-through eateries in most of Nigeria's torrid cities, especially Lagos where noise pollution and urban slums jostle for space with worshippers. Nigerians are the most religious set of human beings on the earth and yet the most disorganized and corrupt society on the other side of the world. Money launderers, rapists, armed robbers, kidnappers, thieves, vagabonds, drug peddlers and all sorts of shady characters now run churches in Nigeria. It would have been cheery news if these lecherous characters would turn a new leaf in running the churches as Apostle Paul told the Corinthians "…And that is what some of you were. (that is rapists, thieves, embezzlers etc) But you were washed, you were sanctified, you were justified in the name of the Lord Jesus Christ and by the Spirit of our God." (1 Corinthians 6: 11). Going to heaven is not the only ultimate hope of a truly born-again Christian; making an impact in your small world and be a shining light in a darkened world is commended by our Lord Jesus Christ to all regenerated souls. "Let your light shine before others," the King admonished us His followers and worshippers in Matthew 5: 16 so "that they may see your good deeds and glorify your Father in heaven." I hate analyzing a fellow Christian pastor or evangelist and on few occasions I had cause to call out one, Mr. Femi Aribisala, I did so because of tons of letters I received on his apostasy and the need to correct his spiritual errors. I followed the Biblical principle stated in Ephesians 5: 11: "Have nothing to do with the fruitless deeds of darkness, but rather expose them," and Titus 3: 10: "Warn a divisive person once, and then warn them a second time. After that, have nothing to do with them." Mr. Aribisala is still in his business of apostasy but I have done what the Holy Spirit instructed me and have nothing else to say to his other write-ups. But a person like Femi Aribisala can still be redeemed, if he retraces his steps and as the Spirit says to the Church in Ephesus in Revelation 2:4: "…return to his first love, and repent." But what can one say about a demonic agent like Mr. Temitope Joshua of the Synagogue of Satan in Lagos who built his entire edifice on Satanism?
I have received and are still receiving tons of letters from around the world about this man whom the Holy Spirit showed us was never His own from the beginning? Some of the letters are reproduced below. This is the link to the prophecy on Mr. Temitope Joshua last year :
http://nigeriaworld.com/feature/publication/fayemiwo/010214.html ). I have never met Mr. Temitope Joshua one-on-one or visited his synagogue in my life. The question therefore is, if someone hasn't seen or met another person or visited another person's church, what spiritual right and authority do you have to judge such a person as a fake pastor? In the world today, there are millions of people who have come out openly to declare they are men and women of God and say the Holy Spirit speaks through them. Does anyone have the spiritual right or superiority to condemn such people? In other words, as one of the writers below asked me in his letter; what is the proof that Mr. Temitope Joshua is a fake pastor? In spiritual matters, people lay claim to esoteric knowledge exclusive to them and since the rest of us aren't privy to such hidden knowledge, we can't take such claims with validity. But in Christianity, the only proof next to the Holy Spirit in decoding and understanding spiritual matters pertaining to the Lord God Almighty is through the Holy Bible. As I have stated many times in this column and elsewhere the Holy Bible is the grundnorm of the Christian faith. For example, if someone wants to know about a society, an organization, a nation or any gathering of people, one doesn't need to become a member or visit that town, city or nation to know what they do and how they do or carry out their activities. All you need to do is ask for the constitution of the society, organization, town, city or nation. Similarly, the Holy Bible is the constitution-if you will pardon my use of current phraseology-of Christianity. If you are really desirous to know whether any one, whether Mr. Temitope Joshua or even I-the columnist-is a genuine or fake man or woman of God, all you need do is read my write-ups and align them with the Holy Bible and reach your conclusions. The Holy Bible is the Written Word and the Holy Spirit is the Living Word and both are the same. The Holy Spirit wrote the Holy Bible and as the Author of the Written Word, He has given us the opportunity to know "…the sacred writings which are able to give you (and I)-the wisdom that leads to salvation through faith which is in Christ Jesus" (2 Timothy 3: 15). Consequently, the Holy Spirit gave us the Holy Bible, because "All Scripture is God-breathed and is useful for teaching, rebuking, correcting and training in righteousness, so that the man of God may be adequate, equipped for every good work." (2 Timothy 3: 16-17).
WHEN IS A FAKE OR GENIUNE MAN/WOMAN OF GOD BUSTED? Mr. Temitope Joshua was once asked how he became a born-again Christian. His answer was that he was called to be a pastor right from his mother's womb. Really? He said his mother carried his pregnancy for two years and since childhood, he had been called to be a prophet and healer. But no one called from his mother's womb began to do the Lord's work until they knew Right from Wrong. When Samson was ordained to be a prophet from his mother's womb, his parents were told how to cater and nurture him until he grew up to fulfill his destiny. Manoan, his father was given the sole responsibility to preserve Samson's Nazarene calling until the young man reached puberty (Judges 13: 16). When the Lord God told Jeremiah: "Before I formed you in the womb I knew you, before you were born I set you apart; I appointed you as a prophet to the nations." (Jeremiah 1: 5), the young prophet was already an adult but He didn't know his Creator had already chosen him as a prophet. In the New Testament, Apostles Paul and Barnabas were already adults when the Holy Spirit commanded in Acts 13: 2: "While they were worshiping the Lord and fasting, the Holy Spirit said, "Set apart for me Barnabas and Saul for the work to which I have called them." Not even Papa Abraham, the father of faith and friend of the Lord God Almighty was called from his mother's womb. Over and over again, the Holy Bible declared that "for all have sinned and fall short of the glory of God" (Romans 3: 23) and thus the Lord God allowed each and every one of us to taste darkness first and then Light later, if we respond to His calling, we individually and collectively become "… a chosen people, a royal priesthood, a holy nation, God's special possession, that you may declare the praises of him who called you out of darkness into his wonderful light." (1 Peter 2: 9). This is the first litmus test that should be applied to any one, including this writer, who claims to be a man or woman called into the ministry of the True Lord God Almighty. How can you define salvation if you haven't been oppressed by Satan? How can you suddenly be called by God when you don't even know what you're being called from and into? The only Person who was called by Divine Arrangement and prophesied ever before He was born was and is still the only One; JESUS CHRIST OF NAZARETH, period! I knew the day I gave my life to Jesus at the University of Lagos in 1986. I can never forget Friday February 14, 1997 when I received the Holy Spirit. Every genuine man or woman of God genuinely called into the ministry of the True LORD God Almighty will readily and willingly tell you how their conversion took place and share their Damascene Experience. Unless Mr. Temitope Joshua is a re-incarnation of the Yoruba demonic manifestation of Orogodoganyin, the demon of Iroko in Yoruba Land, then he cannot be a genuine man of God no matter the large crowds and sea of heads that gather at his Synagogue of Satan in Lagos.
In addition to telling us -fellow workers-how he/she met the Lord and got saved, a genuine caller of the Lord God to preach the Gospel should be able to tell us how he encountered and received the Holy Spirit. Our Lord Jesus Christ told His disciples in John 16: 16: "Jesus went on to say, "In a little while you will see me no more, and then after a little while you will see me." What He meant was after His sacrificial Death and Crucifixion for your sin and mine and indeed the sin of the whole world, the disciples would not see Him anymore but after His Resurrection, they would see Him briefly until His Ascension which would make it impossible for them to see Him in bodily form again. But He was coming back but as the Holy Spirit and so they would see Him but now as Spirit. That was why He instructed the disciples not to depart Jerusalem until the Holy Spirit came officially and this He did on Pentecost. It has been the desire of the Lord God Almighty to dwell within us and fellowship with us one-on-one because the "time is coming and has now come when the true worshipers will worship the Father in the Spirit and in truth, for they are the kind of worshipers the Father seeks, (because) God is spirit, and those who worship Him must worship in spirit and truth."(John 4: 22-23). Consequently, if you are a true man or woman of God, a genuine follower or worshipper of the True Jehovah Lord God Almighty, you should know and be able to tell other fellow worshippers, servants and children of God when you received the Holy Spirit. Candidly, you can't even call yourself a born-again child of the Living God, if you can't tell when you have the Holy Spirit because as Romans 8: 9 aptly summed it up:
"You, however, are not in the realm of the flesh but are in the realm of the Spirit, if indeed the Spirit of God lives in you. And if anyone does not have the Spirit of Christ, they do not belong to Christ." When I enter any church or Christian gathering, I only need to listen to the preacher or pastor for just 10 to 20 minutes to know whether he/she is speaking through his own spirit or the Holy Spirit. I have not gone to Synagogue of Satan in Lagos but have watched Mr. Temitope Joshua's sermon tapes and recordings online and never have I seen the operation and evidence of the Holy Spirit in all his sermons.
Now I understand the linguistic deficiency of Mr. Temitope Joshua and will never use this against him because you don't have to be a native speaker of the English Language to preach the Word of Life. It is not the syntax or the homiletics proficiency of the delivery that the Holy Spirit uses rather the Spirit in the Word. There is something you can't put your hand on but clearly missing each time one watches or listens to Mr. Joshua's sermons. There is no Life in it, period! I have never met anyone who listens to this man and the first reaction is; what is this witch doctor talking about? Here is how Apostle Paul described the sermons of religious racketeers like Mr. Temitope Joshua in 2 Timothy 3: 5: "…having a form of godliness but denying its power. Have nothing to do with such people." The power Paul referred to here was not miracle working but "For the word of God is alive and active. Sharper than any double-edged sword, it penetrates even to dividing soul and spirit, joints and marrow; it judges the thoughts and attitudes of the heart." (Hebrew 4: 12). If you're a worshipper at Mr. Temitope Joshua's Synagogue in Lagos, Nigeria or have listened to any of his sermons online and his sermons have been "… alive and powerful (and) sharper than the sharpest two-edged sword, cutting between soul and spirit, between joint and marrow. It exposes our innermost thoughts and desires," (NLT), please drop me a line and explain. This brings me to the rash of voodoo miracles being performed at the Synagogue of Satan in Lagos, Nigeria.

These are perilous times in the lives of most human beings across major countries of the world. The Holy Bible gave us a head up about all these phenomena occurring in our world today. Because of poverty, insecurity, fear, fear of tomorrow, fear of the unknown and other fears that stalk the entire global landscape, people are desperate for alleviating measures to cushion their fears and inadequacies. Satan and his demons have been studying the human race for nearly 7,000 years now and they know that we are all looking for easy answers and quick fixes to the myriad of life's trouble and fears. This is where religious racketeers like Mr. Temitope Joshua come in. Half of those who throng that demonic enclave known as Synagogue go there for quick fixes and not for salvation. A nation suffering from chronic unemployment, where citizens have to pray to enjoy electricity, drink water, evade kidnappers, be able to beat traffic gridlock and all forms of social and economic malaises created by human beings and should and have been solved by human beings in other decent and well-organized societies often take solace and temporary refuge in miracles. Mr. Temitope Joshua so thoroughly benumbs and dominates his worshippers and followers that they even wait on him to predict football matches! What an insane society? If only those spiritual ignoramuses that Mr. Joshua preys on at the Synagogue have read the Holy Bible very well and discovered that the Holy Spirit of God cannot descend to such terrible low as to predict football matches and casinos! No wonder Hosea stated it correctly: "my people are destroyed from lack of knowledge." (Hosea 4: 6). Miracle working is not a sign that a man or woman preacher is a true man or woman of the Living God. Witches and wizards, voodoo practitioners, astrologers, native herbalists, psychics, and other human agents of Satan can and do perform miracles. The two witches in Pharaoh's Court; Jannes and Jambres replicated four of the miracles God used Aaron and Moses to perform in Egypt: "Just as Jannes and Jambres opposed Moses, so also these teachers oppose the truth. They are men of depraved minds, who, as far as the faith is concerned, are rejected." (2 Timothy 3: 8). In my co-authored book; "The Kingdom of Satan Exposed," we explained through the unction of the Holy Spirit the different hierarchies in the kingdom of darkness that people like Mr. Temitope Joshua know about and exploit to pull off miracles. If anyone is ready to pay the price set by Satan, he/she would be given such demonic powers. One of the heavy prices that people pay for belonging to such demonic organization was the collapse of the building at the synagogue the other day. Mr. Temitope Joshua knew the cause of the collapse and he knows too that those of us with the Holy Spirit know too.
HOW TO BUST A DEMONIC MIRACLE? Anyone with the Holy Spirit of God should be able to bust and expose people like Mr. Temitope Joshua in his demonic miracles by reading the Holy Bible very well and thoroughly. The salvation of fallen and sinful humanity was not a miracle but the sacrificial Death of the Son of the Living God, our Lord and Savior Jesus Christ. It is by God's Grace that God saved us from Satan and his demons and gave us the victory. Consequently, those of us who put our faith, trust, hope and tomorrow in the Secured Hands of Jesus Christ do not do so because we are looking for miracles but meaningful relationship with a Loving and Caring God who wanted a family and used His Son to wash us clean to be right with Him,. We do not follow miracles; rather miracles are the byproducts of our faith, belief and trust in the Lord Jesus Christ, Hallelujah! What are miracles? They are supernatural occurrences engineered in the supernatural and spiritual realms to solve natural physical problems. Because Satan and his demons inhabit the supernatural realm and not the spiritual realm, they are capable of performing certain miracles through residual powers. But redeemed children of God-you and I-reside positionally with our Lord and Savior Jesus Christ in the heavenly realm as Ephesians 2: 6 stated: "And God raised us up with Christ and seated us with him in the heavenly realms in Christ Jesus," Consequently, any man or woman of God indwell with the Holy Spirit has the power of the Almighty God to cast out demons from unbelievers.
Any genuine man or woman of God who argues, talks and converses with demons as Mr. Temitope Joshua does during his "deliverance" sessions as shown on television is him/herself a demonic agent. Our Lord Jesus Christ told us to cast evil spirits out as He did. "Jesus commanded the evil spirit, "Be quiet! Come out of the man!" The evil spirit threw the man down to the ground before all the people and then left the man without hurting him" (Luke 4: 35-44). Again, we read in Luke 4: 41: "Moreover, demons came out of many people, shouting, "You are the Son of God!" But he rebuked them and would not allow them to speak, because they knew he was the Messiah." Similarly, in Mark 1: 34, we read: "Jesus healed many who had various diseases. He also drove out many demons, but he would not let the demons speak because they knew who he was." Over and over again, we saw how our Lord Jesus Christ cast out demons without initiating conversations with them. Satan and his demons are liars anyway, so why should a supposed man or woman of God be asking demons how did they enter into someone's body and all those display of mannerism that Mr. Temitope Joshua engages in at his Synagogue? Only on two occasions did the Lord Jesus Christ ask for the names of demoniac in Mark 5: 9 and Mark 9: 25 and on those two occasions, the Lord gave reasons for asking for the names of those demons. We have been given power and authority over Satan and his demons and not to put up a show because demons like to put on show as we see in Mr. Temitope Joshua's Synagogue "miracles."
Another way to decode and see the bottom of fake miracles that Mr. Joshua shows in Lagos is the harrowing pain and maltreatment that his victims go through. Our Lord and Savior Jesus Chris is a God of Love and one of the attributes of Divine Agape Love is that it protects (1 Corinthians 13: 7). Where is the love shown to those hapless victims of Mr. Joshua when they are dragged, humiliated, spat upon, disgraced and shown on television without privacy and concern? Even the woman with the issue of blood was cured discreetly and unknown to anyone but our Lord Jesus Christ. See the whole account in Mark 5: 25 and Luke 8: 43-48. When you are a genuine man or woman of God, you do not make a public show or open display of fellow Christians when casting out demons from their bodies but protect, empathize and love them. Another way to bust these religious charlatans masquerading as genuine followers of our Lord and Savior is that, whatever "good" they do to the unfortunate and ignorant people that go to them for miracles, they take back another vital area of their lives, because as the Scriptures say,
"…promising them freedom while they themselves are slaves of corruption; for by what a man is overcome, by this he is enslaved." (2 Peter 2: 20). Search your life if you have been to Mr. Temitope Joshua's Synagogue and take an inventory; when you go there for the fruit of the womb, its either you give birth to a deformed child or you give birth to baby twins and die shortly thereafter. Every person that has gone to this witchdoctor has one "good and bad" miracle to tell. He prophesied that late Prof Attah Mills of Ghana would become president but shortly after Mills was sworn in, he died. There are several instances of how Satan uses Mr. Temitope Joshua to predict deaths of famous people and he couldn't do anything about the imminent deaths. The fact of the matter is that, miracles aren't the signs to look for when you want to proof that a man or woman who says he/she is a genuine man or woman of God. Bar-Jesus wowed his supporters and admirers in Salamis in Paphos and everyone thought he was the real deal until he was busted by Paul and the rest genuine servants/evangelists of God as recorded in Acts 13: 6-12: "When they reached Salamis, they began to proclaim the word of God in the synagogues of the Jews; and they also had John as their helper. They traveled through the whole island until they came to Paphos. There they met a Jewish sorcerer and false prophet named Bar-Jesus..." We also read the account of Paul and his co-missionaries in Acts 16: 16 of a lady who was a psychic. "Once when we were going to the place of prayer, we were met by a female slave who had a spirit by which she predicted the future. She earned a great deal of money for her owners by fortune-telling…." Read the chapter for the full story. If you are in doubt that Satan and his demons can pull off miraculous powers and perform wonders and miracles, read Revelation 16: 13-14: "And I saw coming out of the mouth of the dragon and out of the mouth of the beast and out of the mouth of the false prophet, three unclean spirits like frogs; they are demonic spirits that perform signs, and they go out to the kings of the whole world, to gather them for the battle on the great day of God Almighty." But before the great battle, Satan and his demons are currently busy luring the ignorant, the unwary and the spiritually ignoramuses to their enclave through fake miracles and demonic wonders since those human beings want quick fixes instead of salvation.
LETTERS
Thank you for your commentaries on Synagogue Church of All Nations (SCOAN) in your column last week. May the Almighty God continue to bless you. ---Ms. Vanessa Nnamani, Lagos, Nigeria.
Thanks.
-------------------------------------------.
I am not really a fan or an advocate for these preachers you mentioned in your recent article but my question is, is there proof that Pastor Chris or Joshua is fake? That something happened to them like Christ Jesus and his betrayal means judgment on them? Please I need your answers. Neither am I condemning your writing. Thanks----Mr. Tony Okorie, South Africa
You should have fund answers to your questions after reading the column article for this week above. Thanks.
------------------------------------------------------.
May God continue to bless you sir. I just read your column article last week and how Adam and Eve allowed Satan to steal the world and the good news of our Lord and Savior Jesus Christ that came for our rescue and He is coming again. Right now He is at the right hand of the Holy Father advocating for all of us believers. Thanks for the words of inspiration. Thanks for telling the world the reasons I thank Jesus Christ everyday every hour, every minute actually all the time and I write same on my Facebook page every time. Thank you Lord Jesus! God bless you and yours again and again sir. I know very soon we shall praise the Lord God together in the Mighty Name of Jesus, amen----Brother Anthony Omisore, Bronx, New York, USA.
-------------------------------------------------------.
Dear Dr. Fayemiwo The Almighty God is very well in control of this world because He made it , and for a purpose. But there are many things we need to know about God. If you do wrong you get the consequence when the time is right. Some of us depend ABSOLUTELY on God and we get the results. If you wish I can find the time to give you amazon proofs that God answers UNHINDERED prayers. But also very important is the fact that God grants us freewill, unhindered. So we can go on and do what we please but all our deeds to which the words of God apply, have consequences. If it is the wish of God to force us to do His will, no one can stop Him but He wants us exercise our freewill so He will know those who are sincere. God bless you---Mr. John Akingbala Charlotte, NC, USA
---------------------------------------------------------------.
Dear Dr Fayemiwo, I have three concerns namely:-: a) Satan and its demons are not aliens b) Aliens do exist. c) Did God Almighty create life, other than us on other planets? Sincerely---
Carlos Varsovia, Bogota, Republic of Colombia.
NO. The Holy Bible didn't tell us there is life in other planets and what isn't disclosed in the Bible cannot be vouched for. The word "alien" is another euphemism for demons that operate in the Kingdom of Darkness. We have more about this topic and others in our book "The Kingdom of Satan Exposed" atwww.allternativecommunication.net Thanks and remain blessed in Jesus Mighty Name, Amen.
-----------------------------------------------------------------.
*Dr. Fayemiwo is quondam professor of Biblical Exegesis at Kingdom Bible College and Seminary, Tucson, AZ and CEO, Alternative Lifestyle Communication, DBA Chicago. He is the co-author of the latest book: "Coming to America," and also member, board of directors/ director of administration, The Millennium Stem Academy Charter School of Chicago, Illinois. Visit his company's website at www.allternativecommunication.net. Please all private email for urgent attention should be sent to this email address: [email protected]

Disclaimer:

"The views/contents expressed in this article are the sole responsibility of the author(s) and do not necessarily reflect those of The Nigerian Voice. The Nigerian Voice will not be responsible or liable for any inaccurate or incorrect statements contained in this article."
Articles by The Christian Walk