PINK PEARL FOUNDATION ANNOUNCES "HOPE SESSION" – A WORLD BREAST CANCER DAY INITIATIVE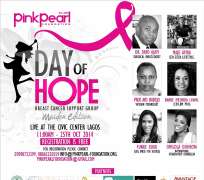 As part of the global campaign against breast cancer, Pink Pearl Foundation - a public service charity organization championing women empowerment in the fight against breast cancer will hold its maiden one-day programme titled: 'Day of Hope' on the 25th October 2014 in Lagos.
Hope Session is a breast cancer support group designed to provide psychological help to breast cancer patients and survivors.
The support group consists of informative and interactive seminars which include psychology, well-being, therapy, body aesthetics & recreation programs anchored by the foundation's ambassadors – Banke Meshida-Lawal, Leila Fowler, Maje Ayida amongst others.
According to the CEO, Pink Pearl Foundation, Orode Ryan Okpu, "We plan to focus on preventive measures; increasing awareness on behavioural patterns to help reduce the risks of breast cancer like healthy eating, low alcohol consumption. In addition, the support group will run programs that promote physical activity, nutrition classes, self value sessions and personal growth strategies."
The objective of the support group is to track the progress of affected women. Pink Pearl Foundation's intention is to run a thorough and transparent series of workshops to achieve this feat.
"Hope Session" is testament to the Foundation's dedication to increase public awareness through education about symptoms, prevention, diseases processes and the importance of regular examination for early detection.