Where are the roads in Nigeria?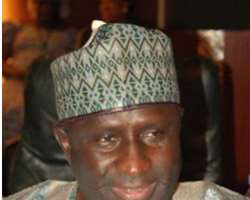 Sen. Idris Umar, Honourable Federal Minister of Transport
To weeks ago, I decided to engage in adventurous tourism by road through six (6) states with my wife. When I say adventurous, I am clearly being euphemistic at best.
When we departed after church on Sunday, we left Asaba for Aba in Abia State. We of course passed through Onitsha in Anambra State and Owerri in Imo State before meandering to the outskirts of Aba. That is where the problem really started. Initially, I was filled with trepidation about the Imo junction into Abia because I had some rather "interesting" experiences in 2012 there while doing consultation.
Interestingly, there was a headline in one of the dailies that Aba is worse than Ebola. I did not have the time to read the article, but personally experienced what may have provoked the sensational headline. Instead of going from Aba to Uyo, we had to turn around and go back to Umuahia. Between Umuahia in Abia State and Ekot Ekpene in Akwa Ibom State, our car almost capsized (turned over). Not only was it raining, the road was un-tarred and muddy with gaping crevices in the middle of the road. When we finally arrived Uyo my prayer of thanksgiving to Almighty God could not be faked. Also, as I mentioned to some friends on Facebook and Twitter, I concluded "it ain't America." Having said that, why can't we have good roads like they do in developed countries? They can carve roads out of mountains in Jamaica and Trinidad. There are suspended bridges over a hundred feet above water in places like Sarasota, Florida (USA). Some little Island nations like Montserrat, have budgets smaller than most of the states in Nigeria.
On our return, we went by a different route. We went from Akwa Ibom to Cross Rivers, through Ebonyi, Abia, Imo, Anambra and then finally back to Delta. Some of the villages and towns we drove through included Apati 1, Abini, Umai, Iwuo Obobo, Idomi, Yakurr, Adim and Ediba. Other places of interested included the bridge between Adiba and Itigidi, rice farms in Itigidi, Agbara, Abi, Ibii community in Ebonyi State, Amasiri, Oseodda, potato farmlands in Akaeze Ukwu in Ivo LGA, Isiaka, Okigwe LGA in Imo State, Isuocha, Umunze and Umuchu. In all of these, the recurring decimal was bad roads.
As I was meandering through some of the areas and engaged in discussions with my wife, or just wandering off in my thoughts, inevitably one pothole or another will bring me back to reality. I eventually became an artful pothole dodger.
At the end of my trip, I had to take my car to a panel beater to rectify some damages and a mechanic to fix some things loose in the engine from the excessive gallops. It now occurred to me that part of the expense involved in living in Nigeria is unnecessary car maintenance.
I have only mentioned the physical damage to my car. I cannot neglect to mention the toll on our bodies. When I arrived Asaba I had to take some painkillers for body aches and headaches. For those of u that drive with our seatbelts on, the several bumps and weaving puts undue pressure on your shoulders and vertebrate.
Akwa Ibom capital city of Uyo probably has the best roads and road signs in all six (6) states we visited, but I wonder the condition of the roads in the villages outside Uyo and the other feeder roads. In some conversations with the government officials about the deplorable conditions of the roads, the response was the usual "it is a federal road." Nonetheless, I am aware that a State government can fix an interstate rod and seek reimbursement from the Federal government.
Good roads aid the movement of goods and by implication commerce. Furthermore if you want to encourage tourism, there must be pliable roads to take tourists to the attractions. I was saddened to learn that the road to a major tourist destination was so dilapidated that it now takes three times the normal time to get there. Needless to say, we did not go there. Our only viable option was to go there by air another time.
While I am aware that President Goodluck Jonathan is transforming the rail sector like never before, the roads must be worked on. The Federal Ministry of Transport in its website (www.transort.gov.ng) touts its Road Transport division by stating that "The division was set up to handle road transport policy, develop interstate road regulation, been in liasion with other transport stakeholders and Federal Government."

In most State and federal annual budgets, there are both capital and recurrent expenditures a simplified explanation will be to say that capital expenditure is needed for items such as road construction, while recurrent expenditure goes to salaries. Generally, for effective development, capital expenditure must significantly outweigh recurrent expenditure. When you look at the relevant state and national budgets, there are enough funds to develop our roads, if the money is judiciously managed.
As 2015 approaches, we clearly need visionary leaders that will save us from these death traps we call roads in Nigeria.
Think about it.
*Rev. Atawa Akpodiete, a public affairs analyst writes from Asaba. He is also an aspirant for Udu/Ughelli North/Ughelli South Federal Constituency in Delta State. Contact him on 08138391661 or [email protected],

Disclaimer:

"The views/contents expressed in this article are the sole responsibility of the author(s) and do not necessarily reflect those of The Nigerian Voice. The Nigerian Voice will not be responsible or liable for any inaccurate or incorrect statements contained in this article."
Articles by Prof. Alex O. Atawa Akpodiete, Esq.