N7b debt: GTBank in Court to stop sale of Arisekola-Alao's assets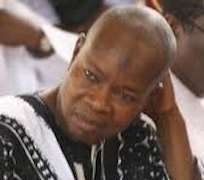 A Federal High Court sitting in Lagos has ordered that the assets of late billionaire businessman, Alhaji Abdul-Azeez Arisekola-Alao should not be sold, a plea sort by Guaranty Trust Bank (GTBank).
The court ordered parties in an alleged N7 billion debt suit to maintain status quo and stop the planned sale of his companies and personal assets.
Mentioned in the suit was the Lister Oil Tank Farm at Creek Road, Apapa.
The suit was filed by Guaranty Trust Bank (GTB) against the Estate of Arisekola Alao and two of his companies, Lister Flour Mills Nigeria Limited and Lister Oils Limited, over the alleged indebtedness.
The court directive read: 'By this Order, the Estate of Late ALHAJI ABDUL AZEEZ ARISEKOLA ALAO and the Companies are directed not to dispose their assets (including the personal assets of Alhaji Arisekola), especially a Tank Farm owned by Lister Oil Limited situate at No. 21 Michael Ibru Boulevard (formerly Creek Road) Apapa Lagos, pending the determination of pending applications to restrain disposal of these assets.
'GTB by the action claimed the sum of about N7 Billion plus accrued interest being outstanding loans granted to Late ALHAJI ABDUL AZEEZ ARISEKOLA ALAO through his companies, Lister Oil Limited and Lister Flour Mills Limited.'
The bank claimed that the late businessman had executed a personal guarantee in favour of GTB to repay the loans. The Personal guarantee is expressed to be continuing against his Personal Estate in the event of his death.
GTB's application to preserve the assets of the Defendants is to secure the outcome of the action and forestall dissipation of assets such that there will be nothing left to satisfy the Judgment debt in the event that judgment is made in its favour.