President Obama's African Summit And The Vestiges Of Civilization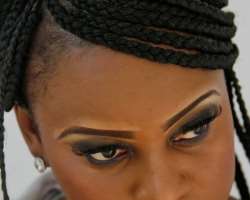 When regular folks and political pundits examine the past few months in Washington DC with the interplays of political maneuvering it might be tempting to score the Israeli carnage in Gaza or the United States re-intervention in Iraq as the crème de la crème of déjà vu policies.
However, it is my humble opinion that history might also look unkindly on President Obama's august African summit. The summit was attend by about 40 African rulers who rushed to DC, to kiss the ring of the American president and "African son."Amongst those African rulers that came to receive heavy dosages of the so-called civilization brew were some of the who's who of dictatorship, corruption, and impunity.
President Obama guest included Mr. Yoweri Museveni of Uganda who claims to distaste the imposition of western values over Africa, but has no qualms about lording over his fellow East Africans for 28years. The contingents from North Africa and especially Libya, were an array of "civilized Honorable" and CIA operatives. But the African summit also featured other refined rulers with dubious Excellency titles such as presidents for life Mr. Teodoro Obiang Nguema of Equatorial Guinea and Mr. Paul Biya of Cameroun. Other questionable rulers in Washington were Joseph Kabila of the "Democratic Republic" of the Congo, and Mr. Yahya Jammeh of Gambia.
Some of the aforementioned rulers arrived with their goon squads under the guise of diplomatic immunity/privileges to terrorize and traumatize their critics in the US.Their analyses probably hinged on the fact that if the so-called civilized capital can invite them over there despite their antecedents in Kinshasa and Banjul, why hide their true colors. If Washington allows for weapons, logistics, and trainings that enables the elites on the African continent to suppress and marginalize their masses, then there is no harm in beating down activists in the west. At the African summit Fatou Camara from the Gambiaand Jacques Miango from Congo were assaulted by delegates of their respective governments.
However, as some African governments displayed their contempt for the wellbeing and lives of their fellow Africans, others displayed a slicker and civil disdaining approach. The Nigerian delegation did not try to curtail the freedom of expression and assembly of their expatriates in DC, instead they managed the unfolding affairs. After getting surprised by the efficacy of foreign branches of priormovements such as Let there be Light in Nigeria, Occupy Nigeria Movement, and Bring Back Our Girls, the petroleum state unleashed their petrol dollars. They hired Levick a civil public relations firm or propaganda agency in Washington DC and Perseus Strategies a so-called human rights law firm.
President Jonathan and his cronies hired both firms for nearly 2million dollars per annum before the African summit.This civic access enabled them to place an op-ed in the Washington Post. In furtherance of their policy of money can buy you love the Nigerian ministry of Tourism, Culture and National Orientation hosted the Nigerian Our Heritage event at the Kennedy Center on August 4, the opening day of the African summit. The national troupe of Nigeria was flown in to perform free for a handpicked Nigerian diaspora. Musicians such as Flavour, Don Jazzy, Davido, Tiwa Savage, and Iyanya arrived and performed on the bankrolls of Nigeria aka Niaja, one of the riches countries on earth.
Another Nigerian musician Dbanj was a guest on an American TV station. He appeared on This Week, a Sunday morning show with George Stephanopoulos as part of their civilized or colonized charm offensive. Our musicians that pay lip service to the legacy of Fela, the radical, were used as instruments of obfuscation. The Nigerian embassy also recruited groups like Nigerians in Diaspora Organization (NIDO) and other individuals such as event organizers, promoters, and disc jockeys for propaganda. It must be said that some of the same folks who marched with us to engage the Nigerian government on the quest for accountability, fell for their public relations ploy and became civilized sycophants.
However, when journalist Fatou Camara was assaulted in Washington DC, she wondered if this could happen in the self-appointed land of civility and freedom. But African rulers who arrived in the US amidst the apex of the Ebola virus knew better. They knew that Mr. Charles Taylorwas an American CIA operative. These heads of state at the African summit knowof the extrajudicial killings of Amadou Diallo, Eric Garner, and John Crawford III. They see the hypocrisy in this civilize space for mass hysteria when individual's throats are slashed but unaffected apathy when bombs crush hundreds of human heads and splatter their brains and membranes.More monies are used for warfare and not welfare.
Thus the African summit became a civilized dance party for the elites in the west and their guest from Africa to mingle and praise each other while issues such as insecurity and impunity have become normative to the world disorder.So-called civilized folks are quick to speak about reducing overpopulation while negating issues such as national and individual greed that actually creates environmental ruin and scarcity of resources. It must be acknowledged that the world order of either claiming to be civilized or rushing to be civilized is bankrupt, and that mankind needs some other alternatives. We need to equitably invest on humanity rather than continue our shared destruction.
Nnamdi F. Akwada MSW, BA is a Social Justice Activist
www.facebook.com/AfricanDiasporatv
Disclaimer:

"The views/contents expressed in this article are the sole responsibility of the author(s) and do not necessarily reflect those of The Nigerian Voice. The Nigerian Voice will not be responsible or liable for any inaccurate or incorrect statements contained in this article."
Articles by Nnamdi Frank Akwada