Nigeria's $41billion reserves rank highest in Africa - CBN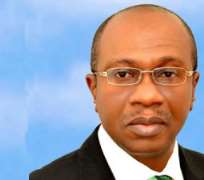 The Central Bank Governor, Godwin Emefiele, has assured Nigerian's that Nigeria's $41billion reserves which he said is the highest in Africa will not be depleted by 2015 elections.
He gave the assurance  at the Africa Business Summit, a high level international forum on Africa's investment climate and market, with a theme, 'Africa Is Rising, There Are Challenges, Still We Rise', in New York.
He said the nation's economy of the country is currently doing well and that the 2015 election will not let it take a downturn, adding that although people are predicting that crude prices will fall and revenues will drop, but with a $39-41billion reserve supporting imports and production for the next 7-8months.
'Nigeria's economy is doing very well and 2015 will not be different, people generally are expecting that crude prices are coming down and nurse fear that may be there could be reduction in production and crude prices will fall,' he said.
Also speaking at the event the minister of trade and investment, Olusegun Aganga said the summit which is a private public partnership is meant to educate as well as attract Investors. He added that the platform provides a level of advocacy for Nigeria's economic image.
Similarly, the aviation minister, Osita Chidoka, told the audience that there is currently a 73% potential for aeronautical investment in the country, with potentials in the infrastructure part of the sector, to create clusters of infrastructure around the airport.