Prince Sunny Aku to Kalu: Stop the attacks on Orji now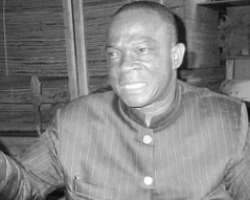 Abia State businessman and Leader of Abia Democratic Movement, Prince Sunny Aku, has warned former governor of Abia State Chief Orji Uzor Kalu to desist from his unwarranted attacks on the incumbent Governor T.A Orji or get ready to face the wrath of Abia people who gave Orji the mandate. He also cautioned the former governor over his perceived agenda to stop the emergence of an Ukwa-Ngwa person as governor in 2015.

Orji Kalu has of recent become more critical and unsparing of T.A Orji and his administration, a development analysts believe is an agenda to weaken the Governor and create confusion in Abia State ahead of the forth coming governorship election. Many also see it as a ploy by Orji Kalu and his group to frustrate the emergence of Abia governor of Ukwa-Ngwa ethnic stock, in spite of the Governor's avowal to ensure that power shifts to Abia South senatorial zone come 2015.
It is against this backdrop that the Abia Democratic Movement under the leadership of business tycoon Prince Sunny Aku, Chairman/CEO of 'Novena Majesty' promised that Abia Stakeholders would not fold their hands and watch Orji Kalu rubbish T.A Orji in a bid to scuttle the desire of the Ukwa-Ngwa people to produce the next governor of the state.

Briefing the press Sunday at his Ikeja guest house with members of the group, Prince Aku said that after due consultations both home and abroad with Abians concerning the political situation in the state, and the unwarranted attacks on T.A Orji because of his resolve to ensure power shift to Ukwa-Ngwa; that he decided with the people of Ukwa-Ngwa and Abia to send the message to Orji Kalu that enough is enough.
"Let nobody take Abia for granted that in 2015 power will shift to Ukwa-Ngwa. Those who think that after leaving office they can come back in 2015 through their cronies to plunder the state's resources again, it will never happen", he warned.
He said "T.A Orji must be supported to complete all his projects and hand over to a candidate of Ukwa-Ngwa ethnic group. We view the attacks seriously and we will not fold our hands and watch anybody rubbish the office of Abia State Governor because any attack on T.A Orji is an attack on Abia people."
Prince Aku stressed that as the Leader of Abia Democratic Movement they would do everything legally possible to stop the attacks on Governor Orji and also stop the confusion the OUK (Kalu) group wants to create to deny Ukwa-Ngwa the 2015 governorship. "Those who parade ill gotten wealth should go and hide or else we expose them. Abia is not for sale, Aku submits.

"It has been brought to our notice that they want to cause confusion so that there will be trouble, but we will not allow it. We have investigated and discovered that some people want to cause commotion to deny Ukwa-Ngwa the opportunity, so we are saying enough of the meetings some of the aspirants are having with the former governor to cause confusion."
The Abia Democratic Movement said it has resolved to always stand by Governor Orji, pointing out that as the leader of PDP in the state the party should not make any mistake because if he shifts, the entire Abia will shift with him. "We have decided that wherever T.A Orji is that is where we Abians will be", he declares.
While commending T.A Orji for his achievements in office, Prince Aku said that Governor Orji took over power with no government house, adding that by the grace of God the next governor of Ngwa origin would move into the new Government House. "Many things that make government were lacking in Abia before but T.A Orji has put them in place. He has done well and Abia people know it", Aku insists.

He accused the former governor Kalu of making money as governor but failed to invest in Abia State. "We pledge that in 2015 that all of us are going to invest in Abia and also attract investors. I promise that within one year of Ukwa Ngwa leadership I will attract N3 billion investments to the state."
Answering a question on why his relationship with Orji Kalu went awry given that he was close to the former governor before, Prince Aku explained that he supported Kalu in his eight years administration because he wanted continuity. He further said that Orji Kalu brought out T.A Orji and Abia people accepted him, maintaining that when Orji Kalu started treating Governor Orji as a domestic servant was when he (Aku) started having problem with him (Kalu).
"He can't treat a governor like a domestic servant. He should allow the man to operate and let the people decide if they don't want him. Gov. Orji is with the people and they love him. So he (Kalu) can't insult the sensibilities of the people of Abia".

On whether the other senatorial zones are in support of power shift to Ukwa Ngwa, Prince Aku said that the other zones are in support of the decision except few that "we know that Orji Kalu is using to cause this problem. Ugwa Ngwa is in majority; out of the 17 local government areas we control nine. Osisioma Ngwa population is more than three LGAs put together and that is why they say Osisioma alone can or fails to make you governor."
Elder Paul Ananaba (SAN) and member of the group said that the plan has thickened by some people who have vowed that Ukwa Ngwa would never rule Abia State. "They are holding meetings to ensure that they stop Ukwa Ngwa, but we are ready to ensure they don't succeed, he adds.
Also the Ngwa Lawyers Forum led by Theophilus Akanwa said they are in support of what the Leader of Abia Democratic Movement has said, pointing out that the attack on T.A Orji is because he wants power to shift to Ukwa Ngwa area. According to him the Ngwa lawyers are ready for the battle. He however called on Gov Orji to be quick to project a candidate who will now be the rallying point.
Nnaji Obed Asiegbu
SA e-Governance & Strategy
to the Abia State Governor