New Release: Raffia Heritage Band - Ima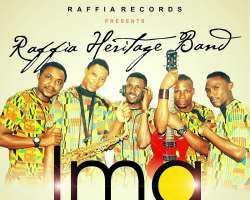 Raffia Records presents Raffia Heritage Band - Ima (produced by one & Only Shun). The much anticipated controversial hit single having been earlier scheduled to be released on Tuesday 02|09|14 is finally out all the way from Raffia City aka City Of Life.
'Ima' having been certified by Club Djs, Radio Personalities and Bloggers is a bang that will force you to get on the dance floor as produced by Shun. Raffia Heritage Band, a band made up of Music Professionals is here to stay and 'Ima' is their welcome song to the Media and the Music industry at large. Download, Listen & Share.
Proudly Raffia City.
Artiste Name: Raffia Heritage band
Song Title: Ima
Producer: Shun
Duration: 3:47
Genre: Dance Hall
Country: Nigeria

IMA ARTWORK