Imo 2015 Poll: Emulate APC, Jude Ejiogu Tells PDP Aspirants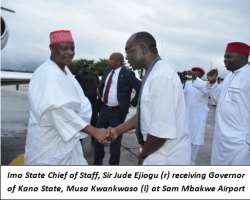 The Chief of Staff and Commissioner for Special Duties in Imo State, Sir Jude Ejiogu has called on the People's Democratic Party members in Imo state to emulate the simplicity of aspirants of the All Progressives Congress instead of hitting up the polity with unguarded comments.
Sir Ejiogu gave the advice on Monday, September 1st, 2014 while responding to questions from newsmen at the Sam Mbakwe Airport during the arrival of APC Governors including former Vice President of Nigeria, Alhaji Atiku Abubakar for the Progressive Governance Third Lecture Series in Owerri.
According to the Chief of Staff, PDP aspirants are known for noise making rather than using political instruments in their disposal to better the lives of the people and warned them to desist or continue to be embarrassed.
Sir Ejiogu while describing the APC lecture in Owerri as part of measure aimed at repositioning governance in Nigeria also stressed the need for all hands to be on deck in supporting the vision of the rescue mission administration of Governor Rochas Okorocha in the state.
On the massive development in the state, Sir Ejiogu who is the Apex Leader of the Owerri Federal Constituency described it as unprecedented in the history of the state and suggested that PDP should instead of devising frivolous means of attacking the government for no just cause, it should cover her face in shame for disappointing good people of the state under 12 years it held sway.
The vibrant Chief of Staff further expressed happiness on the milestone the All Progressive Congress has recorded in less than two years it was formed saying that the primary objective of the party was to transform Nigeria and as well, ameliorate the sufferings of the electorates under the leadership of PDP.
The Emekuku born politician further disclosed that People's Democratic Party was on the verge of exit in Nigeria and challenged the party to point at any meaningful achievement under its 12 years of governance in Imo State even as he appealed to the good people of the state to vote them out in 2015 general election as part of their efforts for the enforcement of the change campaign in the country.
Ikenna Onuoha
CPS to Chief of Staff
2014-09-02 224417
2014-09-02 224441
2014-09-02 224501
2014-09-02 224515
2014-09-02 224534