YAR'ADUA: PRESIDENCY PROBES MISSING SECURITY VOTE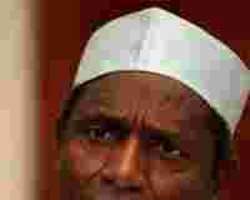 The Presidency may have commenced a discreet investigation into how a huge amount of money earmarked as 'security vote' disappeared under questionable circumstances in three-months.
Saturday Punch gathered that the investigation would cover the three-month period that ailing President Umaru Yar'Adua spent outside the country while being treated for acute pericarditis in a Saudi Arabian hospital.
The President was flown to the King Faisal Specialist Hospital and Research Centre, Jeddah on November 23, 2009 for medical treatment for percarditis. The treatment lasted three months.
He was later said to have been flown into the country on February 24, 2010 under the cover of darkness and has not been sighted by anybody since then.
A source who spoke to our correspondent on the condition of anonymity because of the sensitive nature of the probe alleged that a few individuals in the Presidency spent billions of Naira in security votes during the three months spent by the President in Saudi.
'A quiet investigation of security votes spent at the time Yar'Adua left the country and his return is ongoing.
'Several billions of Naira was spent and the Presidency is demanding for answers. In fact, the Presidency is interested in knowing who authorised the release of the funds, the reason for the release and what the money was spent for.
'The money is feared to have been salted away in foreign bank accounts in Mauritius, Saudi Arabia and Isle of Man. The Presidency is investigating because the man who is recognised by law to authourise the release of security votes was bedridden at the time,' the source said.
The source, who refused to disclose the exact sum involved, said Acting President Goodluck Jonathan and other top officials of the Presidency were jolted on being informed about the 'staggering sum' spent during the three months.
According the source, the Acting President was reliably informed that the sum was released without the normal accounting process being followed. The Presidency is said to be bent on finding out how the missing billions were released from the government's coffers without authorisation by the appropriate authorities.
'The Presidency is demanding to know who authorised the release of the funds and what it was used for since the only person who could have authorised the release of security votes at the Presidency is the President,' the source said.
Saturday Punch gathered that the Acting President is determined to get to the root of the matter as he and others in the Presidency are of the view that the money was withdrawn from government coffers illegally.