Council Chairman Steals N200 Million With Forged Signature, Dragged To EFCC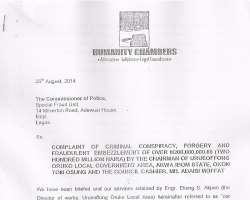 Director of Works drags Council Chairman to Police Anti-fraud unit.
…Over alleged N200m fraud.
…says he's being persecuted for revealing truth about missing fund.
The Chairman of Urueoffong Oruko Local Government Area, Akwa Ibom state,
Okon Tom Osung has been dragged before the Special Fraud Unit of the
Nigeria Police over allegation of stealing N200 million council fund using
the name of a council Director of Works as cover up.
Engr Ekong Akpan, the Director of Works in the local government in a
petition signed by his lawyers, Humanity Chambers said the Chairman who is
currently under investigation by the Economic and Financial Crimes
Commission (EFCC) over allegations of stealing N500 million council fund
has been harassing him (Akpan) for making damning disclosure against the
council chairman while giving evidence before the EFCC investigation team.
According to Akpan's lawyers, a socio-political group, Urueoffong/Oruko
Integrity Group had petitioned EFCC alleging that the council chairman had
defrauded the council to the tune of N500 million.
Akpan, the Council's Director of Works said he was invited by the EFCC via
a letter with reference number CR:3000/EFCC/ABJ/EG/T11/Vol.18/012
delivered to him on 16th of June, to give evidence before the
investigation panel.
Akpan disclosed in the petition that he was confronted with more than 25
different documents ranging from memos to vouchers allegedly raised and
signed by him, which led to withdrawal of more than N200 million from the
council's account.
However, upon his denial of the knowledge of the origin of the documents,
the EFCC, he said extended invitations to some employees of the Council
like Treasurer, Cashier and Director of Finance for questioning.
During interrogation, the Cashier was said to have owned up that the
dubious vouchers and memos were ordered produced by the Council Chairman
in the name of the Director of Works while his signature were forged on
them to seek authentication.
Akpan however said, in the process of travelling to Abuja to heed the
calls of EFCC on various occasions, he has spent up to N300,000 (three
hundred thousand naira) in paying for hotel accommodation, travelling
fares and other logistics.
However, the council chairman Akpan said as an act of vendetta, has
refused to pay his salary since June up until now for refusing to
"accepting the authorship of these forged documents".
The petitioner urged  the police special fraud to conduct a fresh
investigation into the matter and bring all concerned to book since the
EFCC which has all relevant documents and information on the case in its
possession, has refused to take further actions on the issue.
The post Council Chairman Steals N200 Million With Forged Signature, Dragged To EFCC appeared first on Pointblank News .