Jonathan gets commendations on Osun poll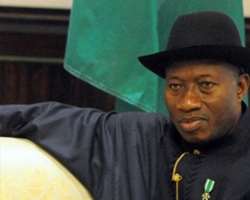 Jonathan gets commendations on Osun poll
The Coalition of Civil Society Organisations in Nigerian, an umbrella body of over 120 registered civil society organisations in Nigeria committed to strengthening democratic values within the African continent, who were among the accredited observers of the just concluded Osun State governorship election, has commended President Goodluck Jonathan for allowing a fair contest in the election.
The group also praised the chairman of the Independent National Electoral Commission (INEC), Prof. Attahiru Jega, and his team for a job well.
The country's security agencies were also applauded for providing a secure and peaceful environment for the election.
The 19 heads of the organisations, however, recommended that, for future elections, the federal government, security agencies and INEC should enforce the policy of no movement during elections