33 killed in Egypt resort coaches accident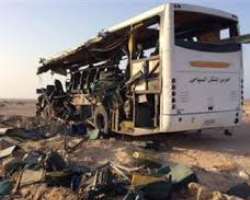 33 killed in Egypt resort coaches accident
A collision between two coaches servicing the Egyptian Red Sea resort of Sharm el-Sheikh killed 33 people on Friday, a health ministry official said.
Two Saudis and a Ukrainian woman were among 41 people injured in the accident, 50 kilometres (30 miles) from Sharm, the official said.
Egypt's authorities go to great lengths to insulate its coastal resorts from the unrest gripping the rest of the country.
But traffic accidents are common in a country where roads are often poorly maintained and traffic regulations are little enforced.
At least 17 people were killed when a bus ploughed into a truck south of Cairo last month. A crash in the Sinai killed 24 people in March.