SANUSI LOOKS FOR A WAY OUT FOR MICROFINANCE BANKS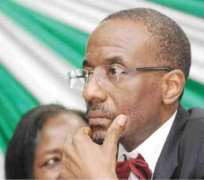 By Oluwaseyi Bangudu
March 26, 2010 01:25AM
Central bank says Sanusi Lamido Sanusi's frequent travels to Maylasia is to help banking sector reforms
The Central Bank is still in search of suitable regulatory and supervisory model for Nigeria's ailing microfinance banks.
The Central Bank disclosed that the frequent trips of its governor, Sanusi Lamido Sanusi, to Malaysia is in search of a supervisory framework for Nigeria's microfinance banks, which have been experiencing some regulatory and monitoring setbacks.
Mohammed Abdullahi, the spokesperson for the regulatory body, said that the Central Bank is still in search of a suitable regulatory framework for the sub sector.
He denied claims that it was in quest of the establishment of Islamic banking. "If it was on Islamic banking alone, he would go to Sudan or Saudi Arabia because that is the best place to go for Islamic banking, not Malaysia."
However, shareholders are wondering when the travelling session would be over as they claim it is their funds that the managing directors, members of Sanusi's entourage, are using on their trips.
Microfinance is the provision of credit and other financial services to people in lower income groups. One of its major characteristics is that it offers limited products with no formal collateral.
In October 2009, at the peak of the banking industry's crisis, the Central Bank of Nigeria said that it was working out modalities to address current challenges of microfinance banks in the country.
Many proposals have been drafted towards strengthening the sector. Central Bank's officials have proposed policies they believe will improve the efficiency of microfinance banks and tackle the challenges faced by the banks at present.
Among the suggestions is the one proposed by Olufemi Fabanwo, the acting director in charge of the Other Financial Institutions Department of the CBN, that the banks increase their capital base above the present N20 million to about N100 or N200 million, as the development is necessary due to the challenges facing the banks in the country.
Challenges thrive
With more than half of the adult population unable to access retail banking services, the introduction of microfinance banking by the Central Bank of Nigeria (CBN) was welcomed by Nigeria's development partners and the general populace.
However, this laudable concept was soon caught in the thorns of an inefficient Nigerian economic system and hijacked by money bags, having failed to capture its target market – 'the poor'.
Tunde Lemo, the then deputy governor of the Central Bank, confirmed last year that some of these microfinance banks are simply ostentatious, with some of them having holidays abroad as part of their executive remuneration.
"With a package like this, how do such banks hope to reach out to those not using any bank and alleviate poverty, which are the main reasons for setting them up?," Mr. Lemo had queried.
The Central Bank directed that every microfinance bank should have a minimum reserve of N20 million, while the National Deposit Insurance Corporation (NDIC) insures each depositor for a maximum of N100, 000, regardless of the amount of money invested.
Experts have identified the problems of microfinance banks in Nigeria to be similar to those of commercial banks. Some of these include severe under capitalisation, extremely high levels of non-performing loans, insider lending, lack of transparency, inexperience and supervision, meagre capital base, loss of customers' confidence, and high overhead cost. They have also expressed fears that the sector might collapse soon if the operators did not change their strategy
Source http://234next.com/