A New Nation is Afoot, Says Jonathan as Conference Ends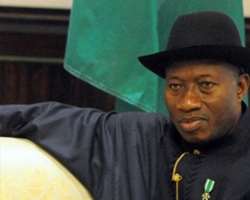 A New Nation is Afoot, Says Jonathan as Conference Ends
•  Promises to implement recommendations
Chuks Okocha   

President Goodluck Jonathan yesterday in Abuja received the report of the National Conference and commended its delegates for setting in motion the building blocks for a new Nigeria, saying a new nation is afoot.
The president also taunted critics of the conference and prophets of the disintegration of Nigeria as a sovereign nation, stating that instead of disintegrating, the country would grow from strength to strength.
Also, the president promised to implement the recommendations of the conference contained in 22 volumes of approximately 10,335 pages with 600 resolutions.
Speaking after receiving the report, Jonathan said: "All those who have predicted the disintegration of our country at the end of our first centenary would wish they chose another country when the possibilities of the new vision for Nigeria are actualised.
"In place of disintegration, we shall have integration. In place of bitterness and spilling of blood, we shall have sweetness and healing in our land.
"Henceforth, our country shall become like running water that approaches a rock, rather than stopping it takes a curve and flows on.
"It is now very clear that as Nigerians, we have devised a way of addressing and resolving our differences amicably: we dialogue and dialogue until we agree. This is most heart-warming indeed!"
The president, in commending the 492 delegates and the management team of the conference, which officially came to an end yesterday, added: "I am greatly delighted that you worked out in practical terms by your patriotic demonstration of the truism that 'though tribe and tongue may differ, in brotherhood we stand'.
"The result of the conference has shown that we are not enemies, neither are we antagonists, no matter our religion, region, state, and tongue. This Conference has reinforced what I have always believed: that Nigeria is here for our collective good."
He said there is wisdom in the saying that, "if two siblings went to the inner recess to dialogue and they are grinning from ear-to-ear when they are done, truth must have been in short supply in their discussions.
"However, no matter the bitter truth they shared behind closed doors, holding hands when they emerge and not disowning each other is the hallmark of blood being thicker than water".
The president stressed that the dialogue reflected the current issues in the light of the socio-political evolution of the world, reminding his audience that the challenges Nigeria faced at independence or even at the beginning of the present democratic experience in 1999 are not the same challenges it faces today.
Giving assurances to the delegates that the report of the conference would be implemented and not reduced to the cabinet, the president acknowledged that the discourse reflected the country's latest challenges.
"We shall send the relevant aspects of your recommendations to the Council of State and the National Assembly for incorporation into the Constitution of the Federal Republic of Nigeria. On our part, we shall act on those aspects required of us in the executive," he stated.
Jonathan furthered stressed that nobody has a monopoly of knowledge, adding: "We who are in government need to feed from the thoughts of those who elected us into power. You have done your patriotic duty, we the elected, must now do ours.
"As I receive the report of your painstaking deliberations, let me assure that your work is not going to be a waste of time and resources. We shall do all we can to ensure the implementation of your recommendations, which have come out of consensus and not by divisions.
"In this regard, I appeal to all arms of government and the people of Nigeria to be ready to play the different roles that the volumes of the report you have produced would assign to you.
"It is my hope that with what you have done, our country is on the right road to getting the job of nation building done."
He said the report of the National Conference, coming 100 years after Nigeria's amalgamation, promises to be a landmark in the country's history.
"I have always believed that dialogue is a better way of driving change in the community and I am happy that this dialogue has gone very well. With the far-reaching recommendations touching on several areas of our national life, I am convinced that this will be a major turning point for Nigeria.
"We have gone through many challenges in our first centenary, now is the time to hit the track and take our proper lane for the race of progress.
"Our moment for national rebirth is here. We have to rekindle hope not only within our country but in the entire African continent where collectively our leadership is acknowledged," he added.
Jonathan also used the occasion to showcase the achievements of his administration, stating: "We are making progress. In 2009, our life expectancy was 47 years, it has now risen to 52.
"We were spending over a trillion naira importing food four years ago, it is now down to a little over N600 billion and still falling. The size of our economy has grown.
"We are improving on our infrastructure and now well on our way to self-sufficiency in energy security. We are focusing on education with a view to banishing illiteracy from our country. We have revived our railways and our airports are undergoing massive repositioning.
"Our sports men and women are now hungrier for laurels and we are recalibrating our security forces to meet the challenges of newer security threat that was brought to us.
"This administration has made the sanctity of the ballot a cardinal focus. Our successes in polls in different states in the recent past have shown we are making substantial progress in the direction of making the polls attractive to all categories of citizens in our land so that our best and brightest would not continue to shun the electoral process.
"Our goal is that Nigeria must quickly arrive at the point where every vote is not only counted but counts. It is free, fair and credible elections that we crave.
"Now is the time that we put behind us all the drawbacks that have inhibited us from fulfilling our manifest destiny and realising our full potential. We must steadily arrive at the juncture where strife, conflicts and mistrusts would become distant echoes of our past. We must make every inch of our country a space for joyous habitation."
Lampooning the critics and cynics of the conference, the president expressed satisfaction that the delegates were able to navigate, in a mature manner, the obstacles he warned them against when the National Conference was inaugurated in March.
"There were those who set out to input ulterior motives to our modest efforts at reshaping and strengthening the foundations of our nationhood to deliver better political cohesion and greater development agenda.
"The naysayers raised false alarms over some phantom hidden agenda and called to question our sincerity and did everything possible to derail this noble project.
"The success of this conference has proved the cynics wrong in many respects. Those who dismissed the entire conference ab initio as a 'diversion' have been proved wrong, as what you achieved has, contrary to their forecast, has diverted our country only from the wrong road to the right direction.
"They said the conference would end in a deadlock as Nigeria had reached a point where the constituent parts could no longer agree on any issue. We exploded that myth by suggesting that you should arrive at your decisions by consensus or 75% majority threshold.
"That was the first challenge you had at this conference when it appeared you were going to break up. There were suggestions that we should intervene as government to 'save' the conference at that dicey moment but I insisted that beyond the inauguration we were not going to intrude into the conference in any manner. We kept our promise.
"One of the many reasons for our non-interference is this: we had at the conference, 492 delegates and six conference officials who all in their individual rights were qualified to lead our great country and if they were unable to agree on how to take decisions, we would be in real trouble.
"Acknowledging the quality and patriotic content of the delegates, I was confident, the right thing will be done," he said.
In an apparent reference to some of the issues yet to be resolved like the derivation and resource control, the president said: "I understand there were a few outstanding issues yet. That you did not agree on all issues shows the sincerity of the discourse.
"Nobody was at the conference to be politically correct. People spoke passionately and argued strongly in favour of what they genuinely believed in. As a result, there were bound to be strong disagreements.
"If everybody agreed on every issue, the debate would not only be lacking in quality and passion, it would also be said to have been stage-managed. What we should worry about now is not that there were disagreements in one or two items, but how to manage these disagreements such that nobody walks away feeling short-changed and bitter.
"It is a major challenge in nation-building as experienced by the biggest democracies in the world. You managed them well and came out tall, fellow citizens."
He congratulated the delegates for not only working out a compromise but also refraining from dividing the conference to reach the 600 resolutions that were passed. "You have indeed built a new architecture of negotiation based on trustful give-and-take that is going to be a permanent reference point in our national life," the president stated.
In his closing remarks, the Chairman of the National Conference, Justice Idris Kutigi, described the conference as a tough assignment, but was grateful that it turned out a huge success, despite initial challenges.
Kutigi, who was a former Chief Justice of Nigeria (CJN), said: "We knew that we were taking on a tough assignment. If truth be told, most Nigerians did not believe that this whole enterprise was going to last this long or come to a successful conclusion.
"Yet, Mr. President, here we are five months later at a ceremony to mark the successful execution of our mandate. It is not that we lasted this long that is newsworthy, but that we overcame all the obstacles on our way."
He said when 494 Nigerians were assembled to address the fears, disappointments, aspirations and hopes, which had accumulated over 100 years, it was only to be expected that the debates would be robust and tempers would fly.
Kutigi said the delegates did not try to ignore or bury their differences, instead, "we addressed these differences while respecting the dignity of those holding these differences and sought to construct solutions which would become building blocks for a just and stable nation".
Kutigi who gave insight into the reports of the conference, said: "We approved over 600 resolutions, some dealing with issues of law, issues of policy and issues of constitutional amendments.
"These resolutions did not deal with frivolous or inconsequential issues. We showed courage in tackling substantial and fundamental issues.
"Mr. President, time will not permit me to list all the critical and fundamental resolutions adopted. But let me emphasise this: all our resolutions were adopted by consensus. Not once did we have to vote or come to a division.
"This is a message that we wish the world to hear loud and clear. Nigerians are capable of not only discussing their differences but are also capable of coming up with solutions to these difficulties."
Comparing the work of the conference with previous conferences in the country, the former CJN said: "In the post-independence history of Nigeria, there have been four conferences, including this 2014 National Conference.
"However, Mr. President, our own task has been the most arduous. The following statistics graphically illustrates this: The 1978 Constituent Assembly had a membership of 230 people and met for nine months.
"The 1995 National Constitutional Conference had a membership of 371 people and met for twelve (12) months. The 2005 National Political Reform Conference was made up of 400 delegates and met for five months. We are 494 in membership and you made us do all this work in four-and-a-half months."
He commended Jonathan for convoking the conference, saying: "On behalf of the delegates to the 2014 National Conference, I thank you for your courage in summoning this conference.
"We have finally laid to rest the apprehension that a National Conference will lead to the disintegration of Nigeria. We have held a National Conference and we are more united today than ever."
He equally commended the president for not meddling in the affairs of the conference and paid tributes to the four delegates who died during the conference.
The delegates that passed on included Mr. Hamma Misau who died on March 27; Dr. Mohammad Jumare who died on May 5; Professor Dora Akunyili, on June 7; and Professor Mohammad Nur Alkali, on August 1, 2014. A minute's silence was observed for the four delegates.
The closing ceremony was attended by Vice-President Namadi Sambo; Deputy Senate President Ike Ekweremadu, Chief Justice of Nigeria, Mariam Muktar, and the Secretary to the Government of the Federation, Anyim Pius Anyim.
 
Thisday