'Project fund mismanaged'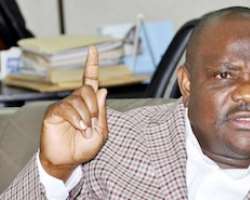 €˜Project fund mismanaged€™
The President-General of the Grassroots Development Initiative (GDI), Bright Amaewhule, has condemned allegations of corruption made against Minister of State for Education Nyesom Wike by Rivers State Commissioner for Health Sampson Parker.
GDI was founded by Wike.
Amaewhule said the allegations were Parker's way of "saving his face".
He said: "Parker is only trying to save his face. Where is the Karibi-Whyte hospital? The structure does not exist and the money for it has been released.
"Some time ago, the governor complained about the standard of Braith-Waite Memorial Hospital (BMH), saying he was disappointed in Parker as regards the money released for the reconstruction and maintenance of the hospital. At that time, Rivers people were calling for Parkers resignation.
"Wike is a qualified lawyer, he successfully passed through the university and Nigeria Law School and later served under Emmanuel Okala (now a Senior Advocate of Nigeria) in his Chambers before he was elected chairman of Obio/Akpor Local Government Council.
"As chairman of the council, he was paid salaries and allowances while he maintained his legal practice. He must not be going to court to practise law. Remember that Wike's wife is also a lawyer and they practised together, through which they made their money.
"Parker was begging for money from Wike when he was a council chairman. Parker was nobody then and had nothing. He was a mere laboratory assistant at the Psychiatric Hospital in Rumuigbo.
"At the Rumuigbo Hospital, Parker did not work as a Psychiatric doctor, but as an auxiliary doctor. He had nothing until he began to build the so-called health centres. I know he used his cronies to award some of those projects to himself, for example, the Rumuigbo and Emuoha Health Centres, among others.
"He has amassed much wealth as commissioner for Health that, at a point, he was almost sacked, but the governor left him because he did not want to embarrass his administration.
Thenation