Six Nigerians isolated in Germany, Vietnam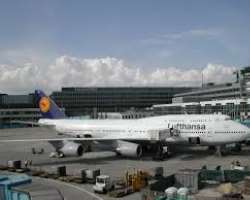 Six Nigerians isolated in Germany, Vietnam
Six Nigerians have been quarantined in Germany and Vietnam because of suspicion of carrying Ebola virus.
One Nigerian in Germany, two at Vietnam's international airport on arrival and three students have confined to their abode for the next 21 days in the Asian country.
Two Nigerians on a Qatar Airways flight to Ho Chi Minh City's Tan Son Nhat Airport last night were taken to a city hospital after being found to have flu-like symptoms that could be tied to the recent Ebola outbreak in West Africa.
Tran Dac Phu, chief of the Heath Ministry's Preventive Medicine Department in Vietnam, said the two passengers departed on Monday from Nigeria on the QR964 flight. They took seats 25B and 26D.
The two Nigerians were then transported to the quarantined area of the Ho Chi Minh City Tropical Diseases Hospital to stay indoors under a 21-day fever watch.
The Preventive Health Department, the city's Pasteur Institute, in collaboration with the World Health Organisation (WHO)'s Office and the US Diseases Control Centre in Vietnam, has sent blood samples taken from the Nigerians for further testing.
The Health Ministry also asked the passengers sitting near the two Nigerians on that flight to go to the nearest hospitals or call the number 0989 671 115 to get guidance on preventive measures.
No Ebola-infected case has been detected in Vietnam so far.
Similarly, Hanoi health authorities are watching three students from Nigeria for flu-like symptoms after they arrived in Vietnam between July 31 and August 8 to attend a college in the Vietnamese capital.
Health authorities said the students, who are asked to stay indoors under a 21-day fever watch, remained healthy, and underwent daily medical checkups. They were asked to inform health officers as soon as they have symptoms of fever, headache, vomiting, diarrhea and hemorrhage.
The Vietnam's Ministry of Health is planning to buy 10,000 protective outfits for health officers facing high risks of Ebola-virus infection while on duty, said the chief of the Preventive Medicine Department.
German health authorities yesterday took to hospital and quarantined a 30-year-old Nigerian woman who showed symptoms consistent with the deadly disease.
Dozens of other visitors and staff at a Berlin employment office building were also stopped from leaving for several hours as emergency services sealed off part of the street.
The mass-circulation Bild daily said the woman fainted, adding later that she had recently been in contact with people infected with Ebola.
Several people who had been with the woman inside the building in the northeastern district of Prenzlauer Berg were later also taken to hospital for testing.
Berlin fire department spokesman Rolf Erbe said that because the patient came from "an area affected by a highly contagious disease, we took these precautions".
He said the testing in the city's Charite hospital would take some time.
"The patient was isolated inside the ambulance, the staff took the appropriate protective measures. An emergency medic, the public health officer, arrived and the necessary precautions were taken," he added.
Minister of Health Prof. Onyebuchi Chukwu insisted yesterday that there are only three Ebola –positive cases in Nigeria, after the discharge of five people who came down with the virus after having primary contact with the late Liberian Patrick Sawyer. All the cases in Nigeria are from primary contact with Sawyer.
Chukwu told a one-day National Youth and Student Leaders Sensitisation Lecture on Ebola Prevention and Management organised in Abuja:
"Nigeria as at today (yesterday) discharged some of those who tested positive to the  Ebola virus disease.
"We have only three Nigerians who have Ebola virus and they are under treatment."
The minister added that of the 21 secondary contacts with Sawyer, only six are still under observation.
"Ebola gave us the opportunities to re-build our public health properly, to police our borders, for our health workers to protect themselves properly and its test has also revealed more HIV patients as they come out openly to say they have HIV and not Ebola. Even though we have lost some patriots, their death will not be in vain," the minister promised.
Cases in West Africa's Ebola outbreak this year have risen to 2,240, including 1,229 deaths, the World Health Organisation said yesterday, reporting the toll in four countries, including Nigeria.
The WHO said it was working with the U.N.'s World Food Programme to ensure food delivery to one million people living in Ebola quarantine zones in Guinea, Liberia and Sierra Leone.
"Food has been delivered to hospitalised patients and people under quarantine who are not able to leave their homes to purchase food. Providing regular food supplies is a potent means of limiting unnecessary movement," the WHO said in a statement.
The WFP is stepping up emergency food deliveries to the quarantined areas, which include severely affected cities, such as Gueckedou in Guinea, Kenema and Kailahun in Sierra Leone and Foya in Liberia.
While Nigeria has contained the virus, Liberia and Sierra Leone are struggling to halt the spread among their populations.