Ribadu joins Adamawa governorship race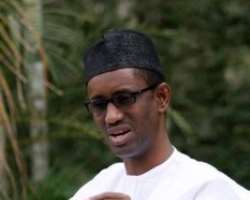 Ribadu joins Adamawa governorship race
… Picks PDP nomination form
The former chairman of the Economic and Financial Crime Commission (EFCC), Mallam Nuhu Ribadu, on Monday picked the Peoples Democratic Party (PDP) governorship nomination form to contest the Adamawa governorship election.
The form, with serial number 0000060, was obtained at the party's national secretariat through a proxy, Alhaji Hamidu Mahmud, at a cost of N10 million.
Speaking with reporters shortly after obtaining the form, Mahmud said Ribadu had applied to the leadership of the PDP for a waiver and that he was awaiting the response from the party leaders.
Mahmud expressed the confidence that Ribadu would get the waiver, saying that the PDP constitution did not insert the waiver clause in anticipation that the former EFCC boss would join the race.
According to him, there is no reason why the party should deny him the opportunity to vie for the ticket.
Besides Ribadu, others in the race for the party's ticket include a former political adviser to President Goodluck Jonathan, Ahmed Gulak; Acting governor of Adamawa State, Alhaji Umaru Fintiri and the former Executive Secretary of the Universal Basic Education Commission (UBEC), Ahmed Modibbo.
Others are – former Minister of state for Foreign Affairs, Aliyu Idi Hong; former Lagos military  administrator, Buba Marwa; and son of former national chairman of the PDP, Awwal Tukur, and others.
The nomination closes Tuesday while the return of the forms is expected to close on August 25.
The party has fixed August 28 for the screening of aspirants.
The ward congress comes up on September 1, while appeal for the congress will hold on September 3.
The Independent National Electoral Commission (INEC) has fixed the election for October 11.
 
 
Thenation