Nigerian woman suspected of having Ebola dies in Etihad Airways plane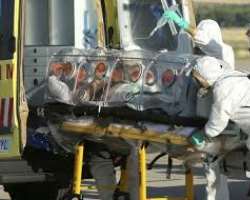 Nigerian woman suspected of having Ebola dies in Etihad Airways plane
The national airline of the United Arab Emirates said Monday it has disinfected one of its planes after health authorities there announced that a Nigerian woman who died after flying to the capital, Abu Dhabi, may have been infected with the Ebola virus, the Associated Press reports.
 
The health authority in Abu Dhabi said in a statement that the 35-year-old woman was traveling from Nigeria to India on Etihad Airways for treatment of advanced metastatic cancer.
Her health deteriorated while in transit at Abu Dhabi International Airport. As medics were trying to resuscitate her, they found signs that suggested a possible Ebola virus infection.