EFCC Arrests Former Bank Manager for N81m Fraud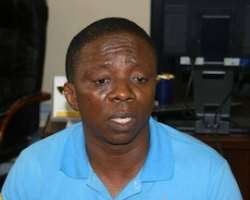 EFCC Arrests Former Bank Manager for N81m Fraud
A former branch manager of a new generation bank, (Ecobank Plc), Victor Amushie has been arrested by the Economic and Financial Crimes Commission (EFCC) for a credit fraud in the sum of N81, 024, 749.28 (Eighty One Million, Twenty-Four Thousand, Seven Hundred and Forty Nine Naira, Twenty Eight kobo only).
The suspect allegedly packaged loan facilities for himself, using several names and accounts of some customers of his bank, with whom he shared the proceeds.
The loans went bad and the bank had to hold Amushie, who was on the verge of running out of the country before being apprehended by operatives of the EFCC.
Details of the loan disbursement showed that he granted a total sum of N57, 979, 024. 07( Fifty Seven Million, Nine Hundred and Seventy Nine Thousand, Twenty Four Naira, Seven kobo only) to Onezh Oil and Gas Limited; N11, 317, 562.73 (Eleven Million, Three Hundred and Seventeen Thousand, Five Hundred and Sixty Two Naira, Seventy Three kobo) to Esubeb Staff Multipurpose Cooperative and N11, 728, 162. 48 (Eleven Million, Seven Hundred and Twenty Eight Thousand, One Hundred and Sixty Two Naira, Forty Eight kobo only) to Ogochukwu Amanda.
Amushie is in the custody of the EFCC and will be charged to court as soon is investigation is concluded.
 
pmnews