Dangote Cement invests $250m in coal power plants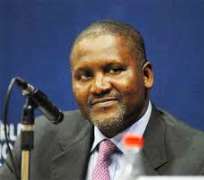 Aliko Dangote
Dangote Cement Plc announced on Thursday that it was making a $250m investment in coal-fired power plants in its Obajana, Ibeshe and Gboko plants,as it seeks to sidestep the perennial problems of gas supply.
Manufacturers in Nigeria are increasingly frustrated by the problems of unreliable power supply from the national grid and increasingly dwindling gas and Low Pour Fuel Oil supply.
The Group Managing Director, Dangote Cement, Mr. Edwin Devakumar , said that the the necessary equipment for the construction of the plants as well as the first consignment of coal, all imported from South Africa, are in place for the project which is already in its ground breaking stage..
Devakumar said the gas and LPFO supply situation in the country was getting worse, with gas-fired power plants and industries using the product to power their processes being starved of gas.
According to him, the LPFO situation has reached a critical stage, forcing the company to resort to importation in the last six months due to its scarcity in the country.
He said that before then, Nigeria used to export the fuel to other countries.
Within the period, he said the company had taken delivery of three vessels of LPFO imported through the Apapa Ports, with each carrying 30,000 tonnes of the product, while each of the coal plants would have capacity to generate 30 megawatts of electricity.
In addition, Devakumar said the company had to rent tank farms in Apapa, Lagos and Calabar, Cross River State, to discharge the imported LPFO into before transferring it to the cement plants.
He said, "We appeal to the government to do something about the problems of gas and LPFO supply. If we don't have power and fuel, businesses cannot survive. If not resolved urgently, the situation will compound the problem of unemployment and insecurity in the country.
"It will impact on companies' profitability. We have already lost about 10 per cent of our capacity and that means less cement in the market. We have, however, increased our production lines to take care of any shortfall."
The Dangote Cement boss said however that the the group was also looking at exploring the opportunity in the local coal industry, as supplies from within the country would be cheaper on the long run.