Osun poll: Opadokun, Dabiri-Erewa congratulate Aregbesola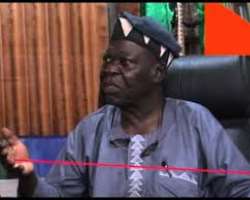 Osun poll: Opadokun, Dabiri-Erewa congratulate Aregbesola
National Democratic Coalition (NADECO) Secretary Ayo Opadokun has described Governor Rauf Aregbesola's success at the poll as a victory for democracy.
Also, House of Representatives member from Ikorodu Constituency Hon. Abike Dabiri-Erewa congratulated the governor and the people of Osun State for sticking to their conscience in the face of intimidation by security agents. She described the poll result as the triumph of people's will over the barrel of gun.
In a statement in Lagos, Opadokun, who is the Coordinator of the Coalition of Democrats for Electoral Reforms (DODER), said "the victory is for the consolidation and polularasation of democracy in the country."
He added: "The victory, which is of God, had human grim determination of our people to resist tyranny, dictatorship of any kind, particularly when their political interest is being assaulted. The victory is an affirmation that our people can confidently re-assert the supremacy of the will of the people over the military surrogates, sympathisers, and loyalists masqurading as political leaders in Yorubaland.
Noting that the people of Osun State have remained loyal to the progressive cause, Dabiri-Erewa said they have demonstrated that no amount of intimidation can stop them from voting and defending their votes.
She added: "They have shown that their confidence in Ogbeni Rauf Aregbesola  will not be shaken."
 
 
Osun people have sent a strong message to all Nogerians to defend their votes as 2015 approaches. For the APC, victory is assured in the future as we will continue to relentlessly sustain the confidence and goodwill of Nigerians in our party."
 
thenation