Fire Burns Two Children To Death In Lagos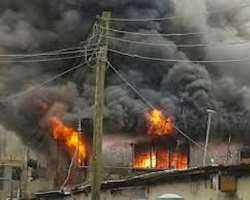 Fire Burns Two Children To Death In Lagos
Fire ignited by candlelight has razed a storey building and burnt two children to death in Lagos, western Nigeria.
The incident happened on Monday around 8:38 p.m. at 43, Salami Street, Mafoluku where the two infants aged two years old each were burnt to death before fire servicemen could rescue them.
The name of the children were given as Joel Chukwu and Monadi Samuel. They were sleeping when fire gutted their flat.
According to the mother of one of the children, Ada Patrick, one of the children belonged to a relation of hers, saying that the child came to stay with her.
Director, Lagos State Fire Service, Razak Fadipe, confirmed that two infants died in the fire disaster last night, lamenting that the fire service was not called on time to put out the fire.
"We got a distress call around 8:38p.m. last night and when we got there, we discovered that it was a storey building that was on fire. The top floor has two bedroom apartment and four single rooms, while the ground floor has two bedroom and six single rooms. They did not call us on time when the fire occurred," he said.
Fadipe said the fire was caused by a candle which was lit by the family who went to sleep without putting it out, saying the candle stick fell and resulted in the fire.
He said two water tanks were used in putting out the fire, adding that the Isolo and Ilupeju Fire Stations were involved in putting out the fire.
He said the top floor of the building was razed, particularly the two bedroom flat on the top floor housing the deceased children and their family.
The Fire Service boss appealed to residents to desist from using candle in their houses as it could be very dangerous, saying that they could purchase cheap rechargeable lamps that would be more useful for them at night.
He also appealed to landlords to ensure that tenants did not use candle in their houses in order to prevent fire disaster.
Fadipe disclosed that the fire service responded to five emergencies overnight, one of which fire consumed a kitchen of a storey building at Shaba Court, Lagos Island.