Areo Contractors' flight aborted over fire alarm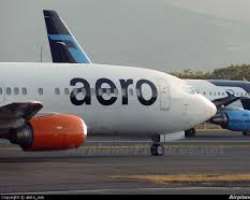 Areo Contractors€™ flight aborted over fire alarm
An Aero Contractors flight was on aborted Wednesday following a a pandemonium generated by what turned out to be a false fire alarm at the Murtala Mohammed International Airport ,Lagos.
A passenger, who has been taken into custody, made a hysterical cry of fire! Fire! before jumping off of a Kano- bound Aero flight which was about to commence taxiing.
The Nigerian Civil Aviation Authority (NCAA) confirmed the development in a statement, but assured passengers that all was being done to ensure their safety in flights.
NCAA's General Manager, Public Affairs, Mr Fan Ndubuoke, said in the statement, "Aero contractors flight NG141(5N-BPR) to KAN STD 6:30hrs boarded passengers at 06:31hrs. Passengers were seated in the plane and the flight was about to push back, when a passenger on board started shouting that there was a fire and opened the exit door and jumped out, the whole plane was in chaos. Aero had to de-plane all passengers." said a statement by general manager
Ndubuokesaid the passenger had raised an alarm that there was smoke emanating from the aircraft when it was about to take off which led the passenger to open the exit door and jumped down causing pandemonium.
He said the flight was aborted, passengers disembarked and the aircraft inspected and discovered that it was a false alarm
Mr Ndubuoke explained that what the passenger saw was smoke emitting from the ground power unit which, was in use at the time.
He said though there was no problem with the aircraft but the passengers were boarded in another aircraft.
He also disclosed that the passenger who jumped out has been detained by FAAN aviation security personnel.
Disclaimer:

"The views/contents expressed in this article are the sole responsibility of the author(s) and do not necessarily reflect those of The Nigerian Voice. The Nigerian Voice will not be responsible or liable for any inaccurate or incorrect statements contained in this article."