NERC to introduce new tariff regulations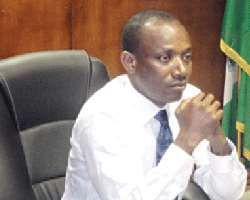 The Nigerian Electricity Regulatory Commission  (NERC) has concluded plans to introduce two new regulations in the electricity sector.
The regulation is Rate (Tariff Review), which aims to ensure that there is a written procedure ​duly approved to guide any distribution, or generation company or the System Operator (SO) that may want to apply to NERC for a tariff review in the future.
NERC said yesterday that the regulation would also  be a guide for them to know what would be required of them.
According to the NERC Chairman, Sam Amadi, 'for instance, their operational documents in the event that NERC requests them to provide such for the MYTO review.'
Amadi: 'The whole idea is to align benchmarks and regulatory framework to the real market situations and it is to ensure certainty in the market while dealing fairly with market participants through a robust regulatory framework.'
The second is the Investment Regulations, an orderly procedure expected to help investors to document their investment plans and submit to NERC for approval.
Yesterday, NERC presented the draft of the two regulations to industry players and other stakeholders for review.
Head of Tariff and Rates at NERC, Dr. Haliru Dikko said at a public hearing on the regulations: 'The regulation gives a detailed analysis of the responsibilities of  tariff review applicants, timelines, costs, submissions requirements and guidelines to be followed when applying for a rate review.'
He explained that the Extra-ordinary Tariff Review was only applicable to licencees comprising Distribution companies (Discos), Generation companies (Gencos) and the System Operator (SO).
He added: 'The Regulations shall only be applicable to Licencees who proposed additional investments into their facilities or networks have not been factored in their existing approved tariff, including emergency expansions and replacements.'