Nyako's seven years administration has destroyed Adamawa – Marwa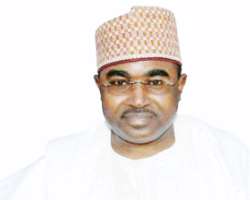 Former Military Administrator of Lagos and Borno states, Alhaji Buba Marwa, has said the seven years rule of the recently impeached Governor, Murtal Nyako has seriously damaged the fabrics of the state..
Marwa who was in the State House for a meeting with Vice President Namadi Sambo, told State House correspondents that he is the best candidate to occupy the Adamawa State Government house.
He said that if voted as governor on 2015, he will repeat the successes he recorded in Lagos and Borno States as Military Administrator, adding that with free education, as well as, checking of insurgency and other security situation will be his prority.
Marwa said his remarkable achievements as the Military Administrator of Lagos and Borno states will not only be replicated in Adamawa State but the projects number will double if not surpassed in Adamawa.
Asked if he had gotten waiver since he has only recently just return to  the platform of the Peoples Democratic Party (PDP) from All Progressive Congress (APC), he said: "Yes and I think that is a concluded business. PDP is looking for good men who will win elections and I am one of them by the grace of God.
"Adamawa State in comatose state after Nyako's administration. It is half-dead and it needs a Marwa to resuscitate it and bring it back to where it belongs.
"Free education, free healthcare, infrastructure, the roads that I did in Lagos like 700, we will double it in Adamawa if not more by the grace of God.
"The water supply, the most difficult area in the country is Borno State I was governor there and I did over 1,000 boreholes and wells there. Agriculture, fishery jobs for the youth. We will work for the PDP and the people," he said.
It could be recalled that Nyako was impeached last month by the Adamawa State House of Assembly on allegation of corrupt practices and other related constitutional breaches.