Wolfsburg wants Chelsea's Torres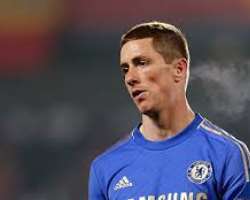 Wolfsburg wants Chelsea€™s Torres
Maligned Chelsea striker Fernando Torres is reportedly wanted by Wolfsburg. Chelsea must cash in if they want to bid for PSG hotshot Edinson Cavani .
Considering how poorly Fernando Torres has played in the Chelsea system since his £50 million transfer from Liverpool, the club would be wise to capitalise on any Bundesliga interest in the Spaniard – particularly as Wolfsburg are reportedly readying a bid for the striker.
Bild note that Torres is "on the agenda" at Wolfsburg and if Chelsea were able to negotiate as good a fee as they were in the examples of Romelu Lukaku to Everton and David Luiz to Paris Saint-Germain then they should allow the player an imminent exit.
If Torres stayed at Stamford Bridge for another season and continued to struggle then any bidding club for Fernando could presumably acquire the player for a cut-price fee.
Not only would Chelsea be able to cut some of their losses on Torres, but they could also help fund a move for Paris Saint-Germain striker Edinson Cavani who, again, has been linked with the West Londoners today .
With Diego Costa and Cavani as strike options, Jose Mourinho would find himself in a situation that is a stark contrast to the one he bemoaned last year – where he had not one consistent goal-scorer to lead the line.