Commonwealth Games: FG to sanction athletes that use drugs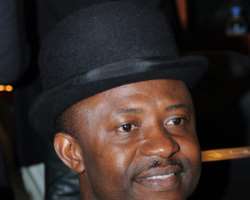 The Minister of Sport Dr. Tanmmy Danagogo has vowed to deal with any coach or official who encourage athletes to use drugs or any banned substance in sports in the country.

Dr. Danagogo in his first official reaction to the drug failure of miss Chika Amalaha, in Glasgow, Scotland, said he would introduce the use of MRI as condition for double checking the status of athletes before any major competition.
According to him "I will ensure the use of MRI scanning devices amongst others, as routine on our age-grade players, and pre-competition drug-test regime on athletes generally".

He warned of severe consequences for "any officials and coaches  who are found to encourage or condone cheating of any kind" stressing that such officials "would face severe sanctions".

He said "the reported first sample drug-test failure of our female weightlifter is very embarrassing and I feel so saddened although I am still convinced that the 16 year old Amalaha is innocent and hopes that she doesn't fail the 'confirmation test".
The minister said "nevertheless I will use my office as Sports Minister to enshrine tenets of integrity and fair competition in our sports,especially as it concerns the youths."