FG says female suicide bombers not Chibok girls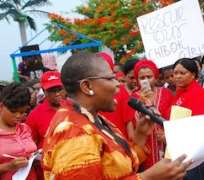 The Federal Government has debunk suggestions that the Boko Haram insurgents may be using the abducted Chibok girls as female suicide bombers.
Former minister of education onof the leaders of the BringBackOurGirlss campaign, Mrs Oby Ezekwesili, triggered the concern in her Twitter posting that the that the abducted Chibok girls may be indoctrinated or coerced into being used as suicide bombers.
Four female bombers have carried out series of attacks on Kano city in the last five days, providing the basis for the fears that those involved could be some of the girls being held by the terrorists.
Ezekwesili said on her twitter page on Tuesday: "It feels like eternity since April 14 when our girls lost their freedom. How can we move on like that? This new trend and pattern of female suicide bombers surely should particularly worry us. Female suicide bombers are again and again becoming the trend and our Chibok girls are still in the enemy's den.
"It worries me stiff. Are we thinking? Our Chibok girls really need to be rescued from the clutches of evil. We must all not stop praying and demanding that the Federal Government acts for results. We have no apology for being agitated. We have nothing to defend for crying out for their rescue."
But the Co-ordinator of National Information Centre, Mike Omeri, has said there is no basis for such fears.
"The use of Chibok girls by Boko Haram is actually not true," Omeri sharply responded to a question asked by a journalist at the briefing.
He spoke during a routine security briefing, alongside representatives of security forces in Abuja, vehemently denied the insinuation.