THE THIRD LIFE OF A 19TH-CENTURY CHURCH BUILDING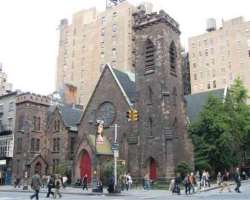 By C.J. Hughes
March 25, 2010 03:46AM
The marketplace, in the landmark 19th-century church that once housed the Limelight nightclub, will combine elements of holiday gift bazaars and department stores .Photo: COURTESY OF WIKIPEDIA
What is perhaps Manhattan's best-known former house of worship will be reborn this spring as the Limelight Marketplace, with 35 upscale boutiques and restaurants within its lancet-windowed walls on Avenue of the Americas in Chelsea.
The marketplace, in the landmark 19th-century church that once housed the Limelight nightclub, will combine elements of holiday gift bazaars and department stores. Vendors will set up side by side in the 12,000-square-foot complex, some in tiny berths of 100 square feet, and shoppers can pay for their purchases at central checkout counters. It is the first foray into permanent retail spaces for a number of tenants, but available one-year leases will minimize the risk somewhat.
A $15 million gut renovation has made the interior much brighter than in the building's often-contentious quarter-century as a nightclub, but the space retains the maze-like feel that was a hallmark of the Limelight.
That is partly the point, said the project's developer, Jack Menashe. "We wanted that feeling of discovery, like you're finding something new and exciting around every corner," said Menashe, who said he had gone to the Limelight in the late 1980s about 10 times. "But we really don't want to be that associated with the past."
An illustrious past
More than a century ago, the Church of the Holy Communion, whose cornerstone was laid in 1844 at West 20th Street and Sixth Avenue (long before its official name change), hardly seemed notorious. Among the parishioners at the Episcopal church, whose distinctive notched towers were designed by Richard Upjohn, also the architect of Trinity Church near Wall Street, were John Jacob Astor and Cornelius Vanderbilt.
But a century later, a dwindling congregation led the church to consolidate and in 1976, after the last Mass was said, a commune called the Lindisfarne Association took over before decamping for Colorado a few years later.
The Episcopal Church then sold the property to the Odyssey Institute, a drug-counselling organisation, for $495,000, before the club mogul Peter Gatien bought it for $1.65 million in 1983. Andy Warhol hosted the Limelight's opening-night party, and soon crowds were lining up outside to get in.
As popular as it was with clubgoers, however, the Limelight was nearly as popular with the police, who occasionally padlocked its doors after complaints about drug use and dealing. The Limelight closed in 2001, and other clubs operated in the space until 2007.
In 1996, the Ashkenazy Acquisition Corp., which owns shopping centres, took a stake in the property after Gatien fell behind on his mortgage, later gaining full control after buying the building in bankruptcy court in 2001 for $3.2 million. Menashe, who has a background in retail, is leasing the space from Ashkenazy, for undisclosed terms.
While the marketplace may intentionally recall the church's heyday as a club, Menashe has made efforts to alter its look. On a recent tour of the space, as drills whined, he noted that in many places a limestone wall had been scraped of 15 layers of paint to reveal its natural surface.
Also gone is a DJ booth that hovered over a Sixth Avenue entrance. But the building, particularly the nave, is unmistakably a church, which sits well with Jon Wye, whose six-year-old leather business will occupy a 250-square-foot space near a recently uncovered round stained-glass window.
Wye, who is based in Washington, D.C., hopes the original detail will help draw attention to his growing business, which rented a stall in December at the Bryant Park holiday market.
Though he would not disclose the cost of his one-year lease, brokers say that $150 a square foot is probably the average for Flatiron district stores without direct street frontage. Whatever the expense, though, the brief lease will allow Wye to penetrate the Manhattan market while keeping overhead low.
There are 60 spaces in all, and the building is about 90 percent leased, the developers said. Some tenants have taken more than one spot, like Brocade Home, a SoHo store, which will use nine berths on the second floor and one on the ground floor. More established brands include Le Sportsac,
Baci Gelato and the bootmaker Hunter, in its first stand-alone New York store.
While there are precedents for what the Limelight Marketplace is doing, brokers say, it is an unusual retail model. Each berth is wired so vendors can set up their own cash-register systems to handle sales independently. If investing in costly equipment is too daunting or if vendors lack room in their shops, they can have sales rung up at any of four central registers.
The less desirable side
Still, said Robert Futterman, a retail broker in New York, historic buildings can be a tough fit for shops because of restrictions on exterior signage, something he said was hurting the shopping mall beneath the Plaza Hotel. Indeed, though Menashe had sought 13 signs for the Limelight Marketplace, the city's Landmarks Preservation Committee allowed only eight.
"But if it doesn't feel like a flea market there, I think it will work," said Futterman, who is not connected with the project.
There is concern in the neighbourhood, however, that some of the nightclub's less desirable features could return. The Brooklyn pizzeria Grimaldi's plans to serve food around the clock with indoor and outdoor seating, and if it receives a beer-and-wine license it could attract a rowdy late-night crowd, said Susan Finley, a co-director of the Flatiron Alliance, an advocacy group, who has lived on West 20th Street for three decades.
Frank Ciolli, Grimaldi's owner, said visitors to nearby clubs "may come out hungry" and drop by, but said he would also attract Broadway theatergoers.
Though the renovations are new, some tenants are already familiar with the space. Renee Chow, the owner of Therapie New York, is taking a 200-square-foot ground-floor space from which to sell items like imported toothpaste. Chow, who used to dance at the Limelight in her youth, said, "If somebody said then that I was someday going to have a store here, I would probably say, 'Stop right now."'
© 2010 New York Times News Service