citizen-ikenna-samuelson-iwuoha: Imo State Police Command and reign of impunity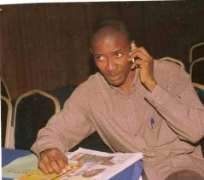 ‏
Senior police officers of the force Headquarters Abuja stormed Owerri the Imo State Capital on the 24/7/14 and presented a letter from the Inspector General of Police to the Imo Police Commissioner Mr Abdulmajid Ali officially demanding the transfer of the case of murder which the Imo Police Command claimed involved Activist Samuelson Iwuoha and his
wife. The transfer had effect from the 24th of July 2014.But rather than release the social crusader and his wife to the Abuja visitors, the Police Commissioner simply gave them reasons and excuses that since he was not informed on time about the transfer, that he should be giving some time to tidy up the reports on the case files and that he will signal them when ready. He also informed them that Gov Okorocha and Mr Benjamin Uwajumogu( Imo Speaker) are involved in the matter.
The Commissioner of Police immediately called the Imo State Police Deputy Commissioner Mr D.O. Folawiyo and the IPO (Mr Obi)and informed them of the development. They quickly contacted Government House and informed them for they have been compromised on the issue.Governor Okorocha on learning of the development quickly dispatched his ADC - Mr. Eberendu to see the Deputy Commissioner of Police.
Shortly after, an order came that Samuelson should not be allowed to see visitors and his relations who throng daily to see him. Also policemen stormed his cell to search him to see if they would find any writing materials around the activist.
The Deputy Commissioner was later seen discussing with other policemen saying that they had been ordered by the Governor to find a way to indict Samuelson in the murder case, that allowing Samuelson to move to Abuja would expose them the more.