National Social Welfare Bill: Akinlaja Raises Hope For Vulnerable Groups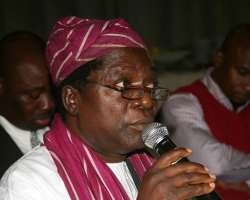 A member of Federal House of Representatives, representing Ondo East/West Federal Constituency, Hon Joseph Akinlaja is leaving no stone unturned to pursue the success of a bill for an act to establish the National Social Welfare Board of Nigeria for the purpose of planning, implementing and overseeing the national social security and welfare scheme and for other connected purposes.
Akinlaja who doubles as deputy national chairman of Labour Party claimed that the prevalent of social and economic difficulties faced by the aged, physically-challenged and indigent citizens in Nigeria, informed the conceptualization of this bill.
''The bill is seeking for the establishment of a National Social Welfare Board of Nigeria, aimed at providing a veritable platform, through which federal government will make conscious and concrete efforts at ameliorating the suffering of this special group of citizens.'' Akinlaja explained.
He further clarified that the bill, is not in conflict with other existing acts (such as the Nigeria Social Insurance Trust Fund Act), but rather, complement its activities, with specific emphasis on the ''helpless and voiceless'' in the society.
''The National Social Welfare Board of Nigeria, (in this act referred to as the Board) which shall be a body corporate with perpetual succession and a common seal and may sue and be sued in its corporate name.
''The board's headquarter shall be situated in the Federal Capital Territory and it may establish offices in all the states of the federation. The governing council shall consist of a chairman, a representative of each of the Federal Ministry of Finance, Labour/Productivity, Women & Social Development, Education, Youth Development, Civil Society Organizations, a representative of Labour organizations, and a youth of not more than 30 years.
''The functions of the board shall be to develop and co-ordinate an integrated social security scheme and to provide care for the poor, aged, handicapped, disadvantaged children, orphans, widows, destitute and the unemployed, to rehabilitate and to pay them benefits as well as to carry out family support programmes.''
He also emphasized that the bill will help to, ''develop principles and guidelines and make recommendations to the government regarding such principles and guidelines, for the implementation of an integrated social security and welfare scheme.
''To co-ordinate, direct and monitor the implementation of such principles and guidelines, as a matter of priority. To implement measure to redress the imbalances of the past relating to the various forms of disadvantages suffered by the vulnerable groups as captured in this bill. ''Akinlaja stated.
HON JOSEPH IRANOLA AKINLAJA