Buhari attack: Military arrests suspected bomber disguised as woman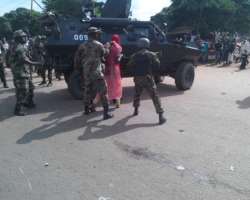 Buhari attack: Military arrests suspected bomber disguised as woman
The military operatives have arrested a man believed to be behind the bomb attack that targeted the former Head of State, General Muhammadu Buhari in Kaduna last Wednesday.
The young man, who disguised himself as a woman, was apprehended by military patrol team when they were combing the area immediately after the bomb attack, which narrowly missed the former head of state.
The shown in the picture above was fully dressed in female outfit, with brazier to project his frontal profile.
The suspect was arrested while trying to meander into a crowd of onlookers with apparent motive to spirit away.
But luck deserted when he was picked out of the crowd with dissembling making him an obvious suspect.