2015: President Jonathan assures on credible polls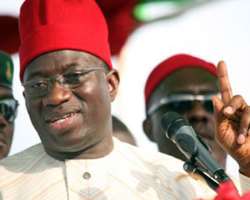 President Goodluck Jonathan has again reassured Nigerians and the international community that the 2015 general elections would be free, fair, credible and peaceful.

This assurance came on Thursday night when President Jonathan broke Ramadan fast ‎with senators and members of the diplomatic corps who joined him at the Presidential Villa, Abuja.
"I know that one thing that is dear to your hearts is what the elections in this country will look like next year.
"But let me use this unique opportunity to reassure you and I'm conveying this to my brothers, your heads of government, that our elections next year will be free and fair.
"It will be very peaceful in nature that will even surprise the whole world," he said.
He noted that fasting is for peace, spiritual upliftment and attainment to paradise, as he urged the Muslim community to keep praying for Nigeria.
"Let us take the opportunity of this season to ask Allah to forgive them and guide them back to the path of righteousness and holiness.
"I wish to call on Your Excellencies and all Muslims who are praying during this period, especially during the night of Majesty, to pray for peace and security to reign.
"Let us also pray for Allah to guide the leaders as well as the followers and give them wisdom wisdom to work for the development of their respective countries," he said.
The Dean of Diplomatic Corps, Mohammed Salladeen, ‎who is also the High Commissioner  of Cameroon to Nigeria, ‎in his remark, commended the President for his steadfastness to fast along with the Muslims since he came into power.

Mohammed assured the president that the international community would continue to stand by Nigeria in her trying times.

"May Allah grant you all the guidance necessary to do your job, to save Nigeria in order to save Africa and to save the world.
"We want to assure you that the international community will be with Nigeria, to bring our knowledge and all we can do to help your country get out of the challenges,'' Salladeen said.
Speaking to State House correspondents, Mr Atiku Bagudu, the Chairman of the Senate Committee on Interior, said that the senators pledged their support to the president at the occasion.