APC writes Jonathan, alleges PDP plot to kill Aregbesola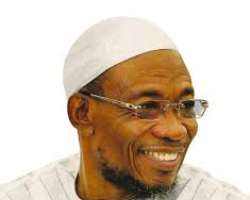 APC writes Jonathan, alleges PDP plot to kill Aregbesola
Osun State Governor Rauf Aregbesola
The All Progressives Congress has petitioned President Goodluck Jonathan over an alleged plot to assassinate Governor Rauf Aregbesola, the Chairman of the APC in Osun State, Mr. Adelowo Adebiyi, has revealed.
Also, the party alleged that Adebiyi, who spoke at at a press conference Osogbo on Wednesday, also alleged that the Peoples Democratic Party was planning to arrest its notable leaders ahead of the August 9 governorship election.
Flanked by the state secretary of the party, Mr. Adegboyega Famodun; Director of Publicity, Research and Strategy, Mr. Kunle Oyatomi; and a leader of the party, Alhaji Fatai Oyedele, Adebiyi, said the letter was written to Jonathan in order to officially inform him of the situation.
In the letter which was read to journalists, the party alleged that the PDP was bent on hijacking power in the state.
According to the APC chairman, the PDP has perfected ways of using fake soldiers while colluding with the Independent National Electoral Commission to capture the state through dubious means.
He alleged that the refusal of INEC to use electronic card readers for the Osun governorship poll was a plan to allow the PDP to manipulate the process of the election.
APC said in the letter, "The President should order his party (PDP) to halt any plan to violently rig the August 9 governorship election through the undemocratic process of militarising the state and terrorising its citizens with thugs dressed in military camouflage shortly before, during and after the election.
"It perhaps may interest Mr. President that top on the PDP hit list of party elders for assassination is Ogbeni Rauf Aregbesola, the incumbent governor of Osun."