Stop harassing my wife, Ezekwesili's husband warns FG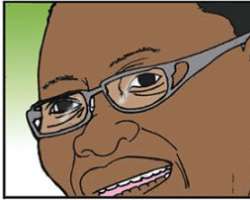 Chinedu, the 60-year-old husband of a former Vice-President of the World Bank, Dr. Oby Ezekwesili, has decried the harassment of her wife by the Federal Government.
Operatives of the State Security Service had on Monday detained the woman popularly called Oby for about 20 minutes at the Nnamdi Azikiwe International Airport, Abuja while she was on her way to board a British Airways flight to London, United Kingdom.
The former education minister and coordinator of the #BringBackOurGirls coalition almost missed her flight as her confiscated passport and other travelling documents were not released until about a few minutes before departure.
She was on her way for a scheduled appearance on the British Broadcasting Corporation flagship hard-hitting interview programme, BBC Hard Talk.
'Is this a democracy? I am being detained by the SSS at the Nnamdi Azikiwe International Airport. The SSS has refused to give my passport to me,' she had tweeted during the encounter.
But her hubby, who pastors a parish of the Redeemed Christian Church of God in the Federal Capital Territory, expressed dissatisfaction with the treatment being meted out to his wife.
Writing on Twitter, Chinedu stated that the Federal Government and the SSS had no such rights to persecute his wife for no just cause.
According to him, only terrorists should be treated in the way and manner his wife was being hounded by the SSS.
'Oby Ezekwesili's passport was seized at the Abuja airport on her way to London this morning (Monday). Is she a terrorist or what?' he stated, while demanding answers from the authorities.
One of her sons, Chuba, could not also hide his indignation for the assault on her mother by the security agents.
The young economist, while lampooning the Federal Government stated that it was worrisome that the authorities would throw 'civility and common sense' to the wind and harass a citizen demanding accountability from the government.
He hailed his mum for being up to the task to 'handle anything thrown at her' by the agents of the state.
Meanwhile, Oby has thanked Nigerians who called for her immediate release during her encounter with the SSS.
She also extended her appreciation to the management and crew members of the British Airways for their consideration and patience in ensuring that she did not miss the London flight.
She linked her travails in the hands of the SSS to her involvement in the #BringBackOurGirls campaign but added that she would never back down from standing for the Chibok girls no matter the intimidation by the Federal Government.
'No one can sieze my democratic rights. I refused to let the SSS get away with trampling on my constitutional right. We had a safe touchdown at Heathrow Airport, praise God!
'Thanks also to British Airways for waiting for me and then upgrading me on this flight. Thanks to all who spoke up against the repressive act of the SSS against me this morning. You will always find help in your time of need in Jesus name.
'They cannot break me; for as long as our Chibok girls are not rescued, I shall stay standing for their cause with all people of goodwill,' she tweeted shrtly after touching down at Heathrow, London.
I pray it is not true that Oby Ezekwesili has been arrested over her role in #BringBackOurGirls. Do Presidential Advisers read History? Never again should any Nigerian be detained for his views except those involved in provable subversive activities!
Reacting to the widespread anger which followed Oby's detention and subsequent release, a former presidential candidate of the National Conscience Party, Chief Dele Momodu, said the Presidency was merely making her more popular.
He explained that it was despicable that the government would resort to a crude tactic of detention to intimidate perceived opposition figures and called for an immediate stop to such harassments.
Momodu tweeted, 'I pray it is not true that Oby Ezekwesili has been arrested over her role in #BringBackOurGirls. Do presidential advisers read History?
'Never again should any Nigerian be detained for his views except those involved in provable subversive activities!
'The Egyptian feminist writer, activist, psychiatrist and physician, Nawal El Saadawi, became an icon because of detention.
'Hope our Federal Government would resist the temptation of turning Oby Ezekwesili into our own Ann Suu kyi (Myanmar female pro-democracy activist); her profile is rising fast!'
A group, Enough is Enough Nigeria, said it was unfortunate that the Federal Government preferred to harass and intimidate citizens instead of collaborating with them to deliver on good governance.
'Why is our government so afraid of citizens demanding accountability? We hope it's teaching us that there is power in our voice and consistent action! We will not be silent!' the group tweeted. Punch