Ezekwesili was never arrested -DG SSS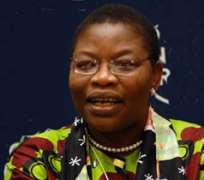 The Director-General of the State Security Service, Ita Ekpeyong‎, yesterday denied reports that his men arrested former Minister of Education, Oby Ezekwesili at the Nnamdi Azikiwe airport yesterday.
‎Ezekwesili, who is one of the arrow heads of the BringBackOurGirls campaign was reported to have been arrested, quizzed and released on her way to London.
But Ekpeyong, told State House correspondents  that nothing can be further from  the truth.
He said there is noway to explain how someone who was  currently in London could have been arrested.
"Did she tell you she was arrested? Did you see her? She is currently in London and that shows you that she was not arrested. We did not arrest her," he categorically stated.