Okwuonu Assures PDP Members In Ife/Akpodim/Chokoneze Ward Of Level Ground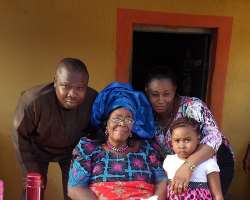 The spouse to the former Deputy Governor of Imo State, Engr. Chilaka Okwuonu, has assured that all returnees and new members who recently joined or rejoined the Peoples Democratic Party (PDP) would be given a level playing ground in the scheme of things.
Engr. Okwuonu gave this assurance while speaking during a recent general meeting of all PDP Executives, stakeholders and members of Ife/Akpodim/Chokoneze Ward at Central School Akpodim.
While receiving on behalf of the State Chairman of the PDP more than 75 persons who decamped from the All Peoples Congress (APC) and All Progressive Alliance (APGA) and declared for the PDP at the meeting, Engr. Okwuonu who is also the Apex leader of the party in the ward appreciated the vision, courage and forthrightness of the returnees and new members in pitching their tents in PDP saying that the party had been structured to accommodate as many members as possible.
In his own remark at the occasion, the PDP Ward Chairman in the area, Chief Eddy Anyanwu assured the received members of their full rights and privileges as members of the party. He also encouraged other persons in the ward to emulate the gestures of the received members and join the party as quickly as possible.
Responding on behalf of the persons received at the event, Chief Gabriel Anyanwu, while expressing his happiness for the reception remarked that he and his contemporaries joined the PDP because the party had been the most organised political party in the state and the nation at large. He also promised that they would be loyal to the party and work hard for its success.
On his own part, Mrs. Celestina Nworu said that what attracted her most to the party was the purposeful leadership of the Eddy Anyanwu-led Executives of the party in the ward, Air Commodore Luke Ochulo at the local government level and the entire leadership of the party at all levels.
Some of the persons who registered with the party at the occasion include Nze L. C. Akanwa, Nze K. C. Akpunne, Mr. Francis Ahaiwe, Prince Ezenna Emeneogu and Mr. Ejike Nwosu.
The event was well attended by many stakeholders of the party in the area which included Chief Chibututu Isiguzo, Chief Innocent Agu, Archbishop B.C.O Nwabueze, Hon. Chima Njoku, Hon. (Mrs.) Virgy Nwosu, Chief Bethel Chilaka, and Mrs. Queen Anokwuru.