The Miscreant Named Eze Chikamnayo: Why T.A Orji Must Sack Him (1)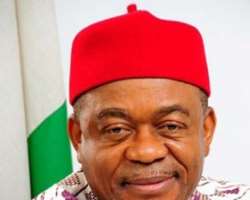 The mentally-bedridden scoundrel named Eze Chikamnayo is the most-horrible thing that has ever happened to Abia State. He has through his devilish means been moving from one position, one government in power, to another in Abia State.
From the position of Special Adviser, this lawbreaker moved to the position of Information, Strategy and Orientation in Abia State. When the rebel governor of the State, Theodore Orji reshuffled his cabinet and the name of Eze Chikamnayo was dropped, the rogue through his witchcraft, found his way back to government.
He is known as one person who displays foolishness without a blink and dances in the euphoria of cheating and masterminding evil. Remember that this betrayer and unlawful called Eze Chikamnayo embezzled N35m meant for Ugwu Abia festival in 2000.
For any doubting Thomases the records are there. Many notable national newspapers had this as cover story.
In a sound clime, people like Eze Chikamnayo are supposed not to be closer to the government again. This is when they must have served their term in prison. He is a dog who goes back to her vomit. It is only a dog like him that goes back to its vomit, not a human being.
But a man like Eze Chikamnayo who parades himself as the Commissioner for Information Abia State, having been booted out by his spell-bounded Governor T.A Orji, has gone back to his several vomits and is still going. Such is common to a man who has sold shame to the winds for the lucre of money.
Eze Chikamnayo is one man who makes the level of T.A Orji a political misfit, when serious people are in Abia State that can handle any position that Eze Chikamnayo is handling. He encourages rubbish and we blame Gov. T.A Orji for allowing such a mentally deranged person in his government.
He feels that he is a rascal, but that was meant for the dogs. Eze Chikamnayo is one man who makes people to laugh at the so-called government of Abia state and see it as one with the display of foolishness anger.
We laugh when we read Eze Chikamnayo in the media talking against or in favour or warning whomever. No one agrees reading anything from Eze Chikamnayo anybody, because they know who he is - a double age sword.
We are calling on the government of Abia State to show this Eze Chikamnayo the exit door. As once a commissioner of finance, he embezzled N35million. Imagine!
More Details, later!!!

Jerry Akuka writes from Umuahia
Disclaimer:

"The views/contents expressed in this article are the sole responsibility of the author(s) and do not necessarily reflect those of The Nigerian Voice. The Nigerian Voice will not be responsible or liable for any inaccurate or incorrect statements contained in this article."